ENGINEERS IN YOUR AREA TODAY!
Chelmsford

Plumbers & Gas Engineers
Local based Gas Safe registered plumbers covering Chelmsford. With over 2000 Reviews We offer Same Day service with an emergency response.
Chelmsford Customer Reviews
Very pleased with the services of Plumbing Force. The plumber fixed the issue we had in our kitchen and even had suggestions for the short term and long term.
Very friendly and helpful plumbers. Polite and courteous. They were able to identify, and rectify the problems with the allotted time frame. I will certainly use them again.
The Plumber was excellent, knew exactly what to do. He worked fast and efficiently. He was friendly and even solved a couple of other minor issues unrelated to the plumbing. Thanks again
Really great service was in and relasied the problem very quick done other checks on the boiler also what may breakdown at times. Fixed it and explained exactly what was wrong and what i can do prevent this and what i am ok to do on my own if there is the same fault. Was low water pressure. Great service will use again and recommend to others.
Plumbingforce Gas Safe engineers are available in Chelmsford to help take the stress out of your plumbing, gas, & boiler issues
Ensuring your boiler is serviced is paramount to maintaining the efficiency of your system
Authorised members of Gas Safe (registration number 551780) offering gas repair/installation services in Chelmsford
Chelmsford

Plumbing Repairs & Services, Boiler Installations
We serve the whole of the Chelmsford and other towns in the East including Bedfordshire, Bedford, Biggleswade, Flitwick, Leighton Buzzard, Luton, Stotfold, Peterborough, Cambridge, Norwich, Harpenden, Hitchin, Newmarket, and much more.
Our engineers can repair and service most system to ensure it operates at the right efficiency and also prevents further problems from arising.If your boiler has a problem, we can also investigate saving you from the stress and hassle caused from the issues.
There will be times when you can no longer DIY your way out of your household problems. After a warm bath, do you notice your shower head leaking? Our plumbers can repair or install shower nozzles of different brands including Aqualisa, Bristan, Triton, Grohe. If your tap or toilet system experience a clog, we have the right tools to unblock or replace them. Make sure to give us a call when you're unsure of the cause of the issue to prevent further damage. This way, you can lengthen the life of your household amenities and save more money.
Radiator & Central Heating Services
Our Chelmsford plumbing and heating engineers can service, repair, install and maintain any domestic central heating system at your property, simply call our friendly team and we will schedule an appointment to suit you.
A clean radiator makes a warm home. Calling for an annual professional cleaning will keep your heating system from breaking down or overheating. When dust and dirt that get stuck in the machine's crevices is not cleaned, this will eventually become rust and black sludge. We ensure that your radiator doesn't reach the point of no return. After we power flush your radiator on the day that you called, you will have actually saved more than you have spent. In addition to that, you will have lengthened the life of your heating system.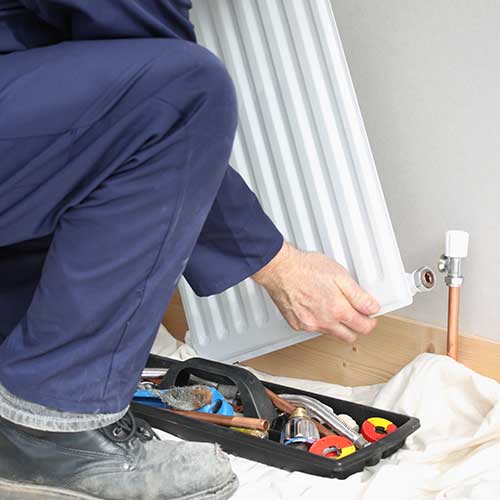 Gas Safe Plumbers In
Chelmsford
Our engineers can repair and service most system to ensure it operates at the right efficiency and also prevents further problems from arising.If your boiler has a problem, we can also investigate saving you from the stress and hassle caused from the issues.
We operate a fast same day service throughout all of Chelmsford & our coverage areas, particularly when a plumbing emergency arises. From boiler repairs, leaking and burst pipes, to toilets which won't flush and showers which are always cold, contact us to get these sorted in the quickest possible time.
If you have a problem that requires immediate attention, contact Plumbingforce today to arrange one of our emergency team members to attend your property without delay!
Plumbing Prices In
Newmarket
Plumbing
Local plumbers ready to assist with one call
£
99
Per Hour + vat
General Repair & Installations
Appliance Fitting
Expert Installers for your new appliances
£
99
Per Hour + vat
General Repair & Installations
Gas
Gas Safe Registered Plumbers at your service
£
99
Per Hour + vat
Gas Fire Repair/Servicing

General Gas Repair / Installations
Boiler Services
Hassle-Free Boiler Installations, Repairs and Maintenance
£
99
Per Hour + vat
Boiler Servicing (Fixed Price)

Gas Checks CP12 (Fixed Price)
Local Heating Engineer and Local Gas Engineer in
Chelmsford
Not all engineers are equipped with the right knowledge and tools to handle gas work. As we are committed to providing the highest quality of plumbing, gas, & boiler services, we make sure that our engineers are Gas Safe Registered. This ensures that they're trained to for specific gas-related problems and can install, clean and maintain packaged burners, industrial burners, gas-fired heaters, warm air unit, and more gas appliances. Aside from their skills, we make sure that our people remain punctual and polite when serving customers.
Jack Cranfield
Gas Safe Engineer
Jason Stewart
Gas Safe Engineer
Max Durgun
Gas Safe Engineer
Please complete the enquiry form below, and send your details to our Chelmsford customer service team. Once you have completed this form, one of our advisors will contact you to discuss your requirements further and to arrange a suitable appointment.
To make a booking or to find out more about our services you can call us or talk to us online now using our LiveChat facility by clicking the image below.
Local Information On
Chelmsford
A century before Maurice, Bishop of London, commissioned a bridge to be built across the River Can, the Domesday Book called Chelmsford by Celmeresfort. This was derived from a site near the High Street stone bridge. In 1189, the market town was called Ceolmaer's ford. As Maurice called for the bridge's construction in 1199, the name was changed to Chelmsford. Located in the centre of Sussex, the town is known to be its bustling political centre. As it also runs along the London commuter belt today, Chelmsford sits in the middle of urban and rural living. 
While Chelmsford originally grew as an agricultural and market town, the town grew as an industrial centre in the 19th century. When Guglielmo Marconi started The Marconi Wireless Telegraph & Signal Company in Hall Street in 1899, the economy boomed. In 1922, they held their first regular wireless broadcast. While the Marconi reign has ended, the company has influenced Chelmsford's prowess in electrical engineering. 
Plumbingforce Service Area