ENGINEERS IN YOUR AREA TODAY!
Colchester

Plumbers & Gas Engineers
Local based Gas Safe registered plumbers covering Colchester. With over 2000 Reviews We offer Same Day service with an emergency response.
Colchester Customer Reviews
Excellent service, plumber turned up within an hour. Extremely polite and helpful and was able to fix the boiler. Will definitely use again.
Outstanding Customer Service from booking my Boiler service through to the Engineer's visit! The Engineer was simply charming; friendly, efficient and thoroughly professional throughout his visit, a great 'ambassador' for the Plumbingforce business!
Great customer service, they are top rate with their customer service. Very professional and surprisingly very efficient, came on time, the ability to diagnosed the issue, and fixed the major leaks. Overall, a good experience. We will be using their services for all our future plumbing needs!
Really great service. I don't normally bother with reviews but I've made an exception! It was very easy to organise an emergency visit over the internet, ongoing communications were prompt, the plumber arrived within a couple of hours and service provided was excellent.
Plumbingforce Gas Safe engineers are available in Colchester to help take the stress out of your plumbing, gas, & boiler issues
Ensuring your boiler is serviced is paramount to maintaining the efficiency of your system
Authorised members of Gas Safe (registration number 551780) offering gas repair/installation services in Colchester
Plumbing Repairs & Services, Boiler Installations in
Colchester
We serve the whole of Colchester and the other towns in the county of Essex including Braintree, Chelmsford, Maldon, Tendring, Rochford, Basildon, Castle Point, Brentwood, Harlow, Epping Forest, and Uttlesford.
Our engineers can repair and service most system to ensure that it operates at the right efficiency. We also make sure that we prevent further problems from arising. If we discover an issue, our Gas-Safe registered plumbers can investigate further and give you their diagnosis and plan of action. You are not obligated to push through with the repairs.
Plumbingforce have plumbing and heating engineers that are able to address the errors of your heating appliances and water systems such as burst and leaking pipes, malfunctioning boiler, shower heaters that won't work, clogged drains, leaking faucets, and defective gas cookers. Our team of engineers are also reliable and efficient to fix the technical issues of gas-related equipment and water systems of commercial establishments and not just those for residential use.
You don't have to worry about the credibility of our engineers. They always have their Gas Safe Registered ID to ease your worries. The ID also shows which type of services they are qualified to handle.
Radiator & Central Heating Services in
Colchester
Our plumbing and heating engineers in Colchester can service, repair, install and provide maintenance checks on any central heating system at your property. Simply give us a call and our friendly customer service representative will be happy to schedule you with an appointment.
Booking a plumber is quite difficult these days. However, you can't exactly have a broken central heating system or a gas cooker for days. This is why Plumbingforce offers a same-day service where we try to resolve your plumbing issues on the same day that you make your call. 
If you're a household owner, you would know that same-day service is quite important. Can you imagine having no hot water or having a clogged drain for days? That will lead to further damage and inconvenience.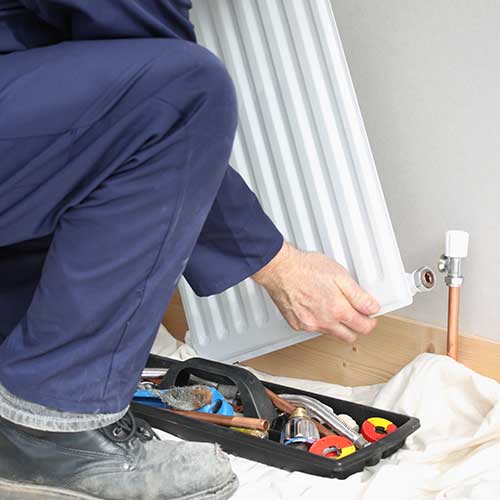 Gas Safe Registered Plumbers In
Colchester
Your safety is our main priority. This is the reason why we only employ plumbers and gas engineers who are registered on the Gas Safe Register. The Gas Safe Register has tight measures set in place to ensure that all of the gas engineers on their list are qualified and competent in handling all gas-related issues in your household. What this means is that all individuals employed by Plumbingforce are equipped with sufficient knowledge to handle any plumbing or gas-related issue they face.
We operate a fast same day service throughout all of Colchester & our coverage areas, particularly when a plumbing emergency arises. From boiler repairs, leaking and burst pipes, to toilets which won't flush and showers which are always cold, contact us to get these sorted in the quickest possible time.
If you have a problem that requires immediate attention, contact Plumbingforce today to arrange one of our emergency team members to attend your property without delay!
Plumbing Prices In
Colchester
Plumbing
Local plumbers ready to assist with one call
£
99
Per Hour + vat
General Repair & Installations
Appliance Fitting
Expert Installers for your new appliances
£
99
Per Hour + vat
General Repair & Installations
Gas
Gas Safe Registered Plumbers at your service
£
99
Per Hour + vat
Gas Fire Repair/Servicing

General Gas Repair / Installations
Boiler Services
Hassle-Free Boiler Installations, Repairs and Maintenance
£
99
Per Hour + vat
Boiler Servicing (Fixed Price)

Gas Checks CP12 (Fixed Price)
Local Heating Engineer and Local Gas Engineer in
Colchester
Our heating engineers are experienced commercial gas safe registered engineer qualified to work on packaged burners, industrial boilers, gas fired heaters, warm air unit and more gas appliances.
Max Durgun
Gas Safe Engineer
Please complete the enquiry form below, and send your details to our Colchester customer service team. Once you have completed this form, one of our advisors will contact you to discuss your requirements further and to arrange a suitable appointment.
To make a booking or to find out more about our services you can call us or talk to us online now using our LiveChat facility by clicking the image below.
Local Information On
Colchester
Home to an approximate population of 112,918 inhabitants, Colchester is a town located in the county of Essex. It is a town well connected because of its superb transportation links such as train stations and accessible roads making commuting easy for the people. The town also has excellent educational institutions where residents can nurture their knowledge and skills. In addition, the town is packed with restaurants, cafes, and pubs to satisfy your cravings of different kinds of dishes and beverages.
In terms of tourist attractions, Colchester is truly filled with history, which is proven by its buildings and landmarks with beautiful architecture such as Colchester Castle, St. Botolph's Priory, St. John's Abbey Gate, and the streets of Dutch Quarter. Moreover, the town also has venues for arts and culture such as Firstsite Gallery, Mercury Theatre, Colchester Arts Centre, Headgate Theatre, and Lakeside Theatre. Lastly, kids and adults can also enjoy Colchester Castle Museum for learning about historical events, Colchester Zoo for experiencing a wide variety of animals, and Leisure World Colchester for relaxing and having fun.
Plumbingforce Service Area