ENGINEERS IN YOUR AREA TODAY!
Nottingham

Plumbers & Gas Engineers>
Local based Gas Safe registered plumbers covering Nottingham . With over 5000 Reviews We offer Same Day service with an emergency response.
Nottingham Customer Reviews
From initial booking to completion of a kitchen tap replaced, it has been a painless and professional process. Very happy and will use again. Many thanks to my two plumbers who were very kind enough to put up with my dog, trying to help, and did a great job fitting the new tap.
Was most impressed that servicing of my gas fire could be done on the same day as my inquiry. The engineer came within the hours mentioned and was extremely thorough and the whole exercise was handled, from the beginning, with speed and efficiency.
From the moment I spoke to Courtney on the phone to arrange a same day service to the moment the guy left the job it was 1st class service. The engineer turned up when he said he would, gave good advice. I would definitely recommend plumbingforce to everybody.
Both boiler engineers we've had from Plumbing Force have been friendly and knowledgeable, and have efficiently diagnosed and then fixed our boiler problems. Excellent service for a very reasonable price.
Plumbingforce Gas Safe engineers are available in Nottingham to help take the stress out of your plumbing, gas, & boiler issues
Ensuring your boiler is serviced is paramount to maintaining the efficiency of your system
Authorised members of Gas Safe (registration number 551780) offering gas repair/installation services in Nottingham
Nottingham

Plumbing Repairs & Services, Boiler Installations
We serve the whole of the Nottingham and other towns in the East Midlands including Leicester, Derby, Lincoln, Hinckley, Kettering, Northampton, and much more.
Our engineers can repair and service most system to ensure it operates at the right efficiency and also prevents further problems from arising.If your boiler has a problem, we can also investigate saving you from the stress and hassle caused from the issues.
Our engineers are skilled at repairing, maintaining and installing your pipelines, radiators, and taps. Since you use these things on a day-to-day basis, some hinges and gears may get rusty or dull. Make sure to call us or book a schedule once this happens. Or better yet, set an appointment even before these things happen. This way, you are saving your wallet from greater spending and your pipes from replacing. Once our engineers run an assessment of your gas appliances, they can also teach you proper maintenance tips so that they can last for a long time. While there are some issues that you cannot DIY, having your basics down pat can also help you fix small problems you might encounter.
Radiator & Central Heating Services
Our Nottingham plumbing and heating engineers can service, repair, install and maintain any domestic central heating system at your property, simply call our friendly team and we will schedule an appointment to suit you.
Do you need to have a new heating system installed? Once you book an appointment with us, our engineers can check if your radiator or boiler is functioning according to industry standards or in need of replacement. After they install a new heating system for your property, make sure to call them for a yearly maintenance check and some cleaning. This way, you can avoid rust formation that cannot be repaired.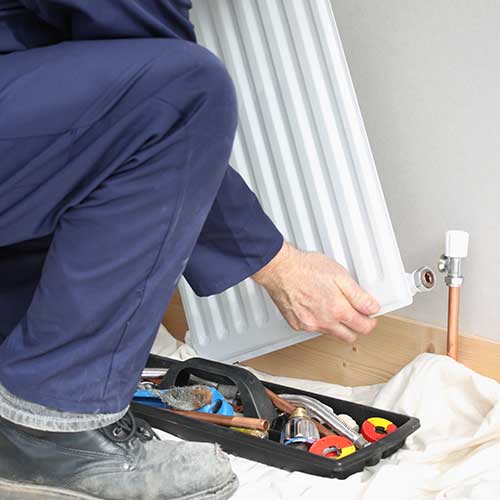 Gas Safe Plumbers In
Nottingham
Our engineers can repair and service most system to ensure it operates at the right efficiency and also prevents further problems from arising.If your boiler has a problem, we can also investigate saving you from the stress and hassle caused from the issues.
We operate a fast same day service throughout all of Nottingham & our coverage areas, particularly when a plumbing emergency arises. From boiler repairs, leaking and burst pipes, to toilets which won't flush and showers which are always cold, contact us to get these sorted in the quickest possible time.
If you have a problem that requires immediate attention, contact Plumbingforce today to arrange one of our emergency team members to attend your property without delay!
Plumbing Prices In
Nottingham
Plumbing
Local plumbers ready to assist with one call
£
99
Per Hour + vat
General Repair & Installations
Appliance Fitting
Expert Installers for your new appliances
£
99
Per Hour + vat
General Repair & Installations
Gas
Gas Safe Registered Plumbers at your service
£
99
Per Hour + vat
Gas Fire Repair/Servicing

General Gas Repair / Installations
Boiler Services
Hassle-Free Boiler Installations, Repairs and Maintenance
£
99
Per Hour + vat
Boiler Servicing (Fixed Price)

Gas Checks CP12 (Fixed Price)
Local Heating Engineer and Local Gas Engineer in
Nottingham
Plumbingforce engineers are Gas Safe Registered, certifying them to assess risks, investigate issues and provide repair services for your gas or heating problems. We ensure that our people not only come onsite at the time agreed upon but also to bring their Gas Safe ID when they're on the job. Whether you own a packaged burner, industrial burner, gas-fired heater, warm air unit, we have the capacity to work with them.
Andy Troth
Gas Safe Engineer
Chris Geary
Gas Safe Engineer
Justin Sidhu
Gas Safe Engineer
Neil Heelas
Gas Safe Engineer
Please complete the enquiry form below, and send your details to our Nottingham customer service team. Once you have completed this form, one of our advisors will contact you to discuss your requirements further and to arrange a suitable appointment.
To make a booking or to find out more about our services you can call us or talk to us online now using our LiveChat facility by clicking the image below.
Local Information On
Nottingham
Famous for the tales told of Robin Hood and his skirmishes with the Sheriff of Nottingham, the city is located in Nottinghamshire of the East Midlands region. With a population of about 300,000 residents, the city is bustling with students and workers and promising opportunity. Believed to have been named after an Anglo-Saxon chief named Snot, Snottingham literally meant "the homestead of Snot's people". Later on, English writers would refer to the city as Nottingham.
Even in old texts, the city has been known for its ancient caves. Not only are these old dwellings well preserved but you will also find century-old trees in the Sherwood Forest County Park. Along with Nottingham's natural beauty, no one can deny the allure of living in a city with a high quality of living.
Plumbingforce Service Area