ENGINEERS IN YOUR AREA TODAY!
Bromsgrove

Plumbers & Gas Engineers
Local based Gas Safe registered plumbers covering Bromsgrove. With over 2000 Reviews We offer Same Day service with an emergency response.
Bromsgrove Customer Reviews
The engineer who came was punctual, polite, friendly, very efficient and was prepared to run the extra mile to ensure my needs were satisfied.
Rikki worked non stop from the moment he arrived. He was pleasant and answered our questions professionally. Job done in no time. The company kept us informed of time of arrival. Job well done.
Excellent service and the person who camewas knowledgable and took the time to explain things and how it works. Will go through it with more detail when he puts the boiler in tomorrow. Anywhere else was saying in 10 days time. Highly recommend PFORCE.
This was excellent service in a very short timescale at a reasonable price. I contacted the company as I needed a gas engineer and agreed a time for the next day. I was contacted by phone that morning to say the engineer was on his way followed by an email which stated his name and picture plus his registration. He carried out the work very efficiently. I am very pleased with the work and this company.
Plumbingforce Gas Safe engineers are available in
Bromsgrove
to help take the stress out of your plumbing, gas, & boiler issues
Ensuring your boiler is serviced is paramount to maintaining the efficiency of your system
Authorised members of Gas Safe (registration number 551780) offering gas repair/installation services in
Bromsgrove
Plumbing Repairs & Services, Boiler Installations in
Bromsgrove
We serve the whole of Bromsgrove and the other towns in the Worcestershire including Stoke Prior, Stourbridge, Redditch, Worcester, Kidderminster, Malvern, Birmingham, Solihull, and Royal Leamington Spa.
Our engineers can repair and service most system to ensure that it operates at the right efficiency. We also make sure that we prevent further problems from arising. If we discover an issue, our Gas-Safe registered plumbers can investigate further and give you their diagnosis and plan of action. You are not obligated to push through with the repairs.
On the other hand, if you want us to push through and enact our plan of action for your technical issues, contact our service centre to schedule an appointment with us on a day that is most convenient for you.
Plumbingforce covers a wide range of services such as gas-cooker maintenance, pipes, toilet flush, and faucet installation, shower heater services, central heating system repairs, and unclogging of drains. To assure you, our plumbing and heating engineers are competent and reliable to do these complicated work as they have their Gas Safe Certificates to prove it. In fact, they always carry their Gas Safe Register ID card so that you can verify the gas work/heating services they are qualified to handle.
Radiator & Central Heating Services in
Bromsgrove
Our plumbing and heating engineers in Bromsgrove can service, repair, install and provide maintenance checks on any central heating system at your property. Simply give us a call and our friendly customer service representative will be happy to schedule you with an appointment.
Considering that there are emergency situations that require our urgent response, our team of engineers can come to your location to help you resolve the errors of your gas appliances or water system. With the help of our same-day service, we are able to attend to you within the day you called so no bigger problem will arise.  In light of this, Plumbingforce's same-day service is an important component of our industry so that our customers will be safe.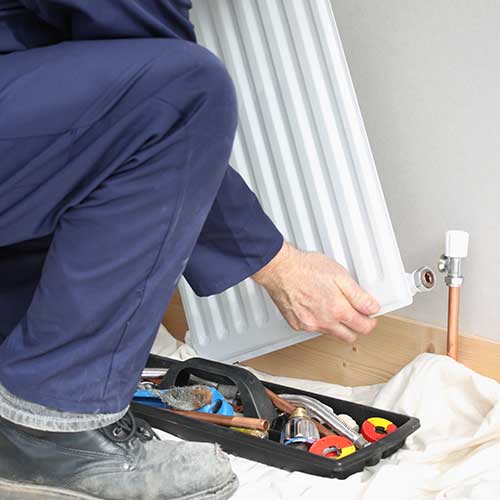 Gas Safe Registered Plumbers In
Bromsgrove
Your safety is our main priority. This is the reason why we only employ plumbers and gas engineers who are registered on the Gas Safe Register. The Gas Safe Register has tight measures set in place to ensure that all of the gas engineers on their list are qualified and competent in handling all gas-related issues in your household. What this means is that all individuals employed by Plumbingforce are equipped with sufficient knowledge to handle any plumbing or gas-related issue they face.
We operate a fast same day service throughout all of
Bromsgrove
& our coverage areas, particularly when a plumbing emergency arises. From boiler repairs, leaking and burst pipes, to toilets which won't flush and showers which are always cold, contact us to get these sorted in the quickest possible time. If you have a problem that requires immediate attention, contact Plumbingforce today to arrange one of our emergency team members to attend your property without delay!
Plumbing Prices In
Bromsgrove
Plumbing
Local plumbers ready to assist with one call
£
99
Per Hour + vat
General Repair & Installations
Appliance Fitting
Expert Installers for your new appliances
£
99
Per Hour + vat
General Repair & Installations
Gas
Gas Safe Registered Plumbers at your service
£
99
Per Hour + vat
Gas Fire Repair/Servicing

General Gas Repair / Installations
Boiler Services
Hassle-Free Boiler Installations, Repairs and Maintenance
£
99
Per Hour + vat
Boiler Servicing (Fixed Price)

Gas Checks CP12 (Fixed Price)
Local Heating Engineer and Local Gas Engineer in
Bromsgrove
Our heating engineers are experienced commercial gas safe registered engineer qualified to work on packaged burners, industrial boilers, gas fired heaters, warm air unit and more gas appliances.
Adam Vipond
Gas Safe Engineer
Anthony Bilson
Gas Safe Engineer
Ben Briden
Gas Safe Engineer
Dan Lucas
Gas Safe Engineer
Please complete the enquiry form below, and send your details to our
Bromsgrove
customer service team. Once you have completed this form, one of our advisors will contact you to discuss your requirements further and to arrange a suitable appointment.
To make a booking or to find out more about our services you can call us or talk to us online now using our LiveChat facility by clicking the image below.
Local Information On
Bromsgrove
Bromsgrove is a rural town located in Worcestershire with a growing population of 98,662 residents. It is a serene and traditional town that is loved because of its ageless beauty.
For those who want to explore the town of Bromsgrove, you will not be disappointed as they house classically-constructed establishments and enchanting nature parks and reserves. To name, we have the  St. Peter's Church, Hanbury Hall Tardebigge Locks, Liz Monk Studio Pottery and Gallery, and Norton Collection Museum. We also have the Avoncroft Museum which contains a formidable collection of 30 buildings here!
The town is also comprised of wonderful green spaces for you to relax and unwind such as the Waseley Hills Country Park, Lickey Hills Country Park, Sanders Park, Pepper Wood, and the Victoria Ground. 
Lastly, it is also worth mentioning that Bromsgrove is comprised of classic and traditional pubs like Little Ale House, Cross Inn, Ye Olde Black Cross Public House, and The Hop Pole Inn.
Plumbingforce Service Area