ENGINEERS IN YOUR AREA TODAY!
Chichester

Plumbers & Gas Engineers
Local based Gas Safe registered plumbers covering Chichester. With over 2000 Reviews We offer Same Day service with an emergency response.
Chichester Customer Reviews
One of the fastest and friendliest plumbing services I've ever had. I had a plumbing issue that, for some reason, no other plumbing company could figure out. And, they are the only company that took time to figure it out and fixed it.
Plumber arrived after text and call to confirm time of arrival . He was polite , courteous and fixed the problem quickly and efficiently , excellent .
Our engineer Mark Owen was great, kept us calm during a stressful situation, dealt with our water leak efficiently and professionally, left our house all working correctly again, a great asset to Plumb Force . Top man.
Very pleased with today's visit. The office phoned to say plumber delayed and gave a later the same day appointment, no problem with that at all. The engineer was polite and efficient.
Plumbingforce Gas Safe engineers are available in Chichester to help take the stress out of your plumbing, gas, & boiler issues
Ensuring your boiler is serviced is paramount to maintaining the efficiency of your system
Authorised members of Gas Safe (registration number 551780) offering gas repair/installation services in Chichester
Plumbing Repairs & Services, Boiler Installations in
Chichester
We serve the whole of Chichester and the other districts in the county of West Sussex including Adur, Arun, Crawley, Horsham, Mid Sussex, and Worthing.
Our engineers can repair and service most system to ensure that it operates at the right efficiency. We also make sure that we prevent further problems from arising. If we discover an issue, our Gas-Safe registered plumbers can investigate further and give you their diagnosis and plan of action. You are not obligated to push through with the repairs.
If you have any concerns with busted or leaking pipes, malfunctioning central heating system, broken shower heaters, or installing new faucets and pipes, our team of plumbers and engineers can be of help! To assure you, our engineers are prepared with the right tools and equipment, experts in the field, and reliable to fulfil their duties.
You don't need to worry about how your equipment is being handled because our engineers have their Gas Safe Register ID card with them that indicates the type of gas work they are verified to perform! Furthermore, check out the reviews of our previous customers to get an idea of the quality of our work.
Radiator & Central Heating Services in
Chichester
Our plumbing and heating engineers in Chichester can service, repair, install and provide maintenance checks on any central heating system at your property. Simply give us a call and our friendly customer service representative will be happy to schedule you with an appointment.
For any problems in your gas-related equipment or water systems that require our urgent response, Plumbingforce offers same-day services for any emergency situation. This is our way to prevent any casualties and to secure your property and safety. 
Plumbingforce understands the possible risks of our heating appliances and water system. Since your safety is part of our mission, our goal is to respond to you within the day you called so that you won't have to wait anxiously until your scheduled appointment.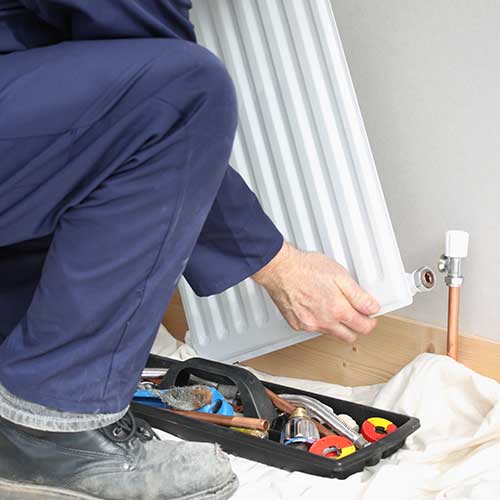 Gas Safe Registered Plumbers In
Chichester
Your safety is our main priority. This is the reason why we only employ plumbers and gas engineers who are registered on the Gas Safe Register. The Gas Safe Register has tight measures set in place to ensure that all of the gas engineers on their list are qualified and competent in handling all gas-related issues in your household. What this means is that all individuals employed by Plumbingforce are equipped with sufficient knowledge to handle any plumbing or gas-related issue they face.
We operate a fast same day service throughout all of Chichester & our coverage areas, particularly when a plumbing emergency arises. From boiler repairs, leaking and burst pipes, to toilets which won't flush and showers which are always cold, contact us to get these sorted in the quickest possible time.
If you have a problem that requires immediate attention, contact Plumbingforce today to arrange one of our emergency team members to attend your property without delay!
Plumbing Prices In
Chichester
Plumbing
Local plumbers ready to assist with one call
£
99
Per Hour + vat
General Repair & Installations
Appliance Fitting
Expert Installers for your new appliances
£
99
Per Hour + vat
General Repair & Installations
Gas
Gas Safe Registered Plumbers at your service
£
99
Per Hour + vat
Gas Fire Repair/Servicing

General Gas Repair / Installations
Boiler Services
Hassle-Free Boiler Installations, Repairs and Maintenance
£
99
Per Hour + vat
Boiler Servicing (Fixed Price)

Gas Checks CP12 (Fixed Price)
Local Heating Engineer and Local Gas Engineer in
Chichester
Our heating engineers are experienced commercial gas safe registered engineer qualified to work on packaged burners, industrial boilers, gas fired heaters, warm air unit and more gas appliances.
Adam Vipond
Gas Safe Engineer
Anthony Bilson
Gas Safe Engineer
Ben Briden
Gas Safe Engineer
Dan Lucas
Gas Safe Engineer
Please complete the enquiry form below, and send your details to our Chichester customer service team. Once you have completed this form, one of our advisors will contact you to discuss your requirements further and to arrange a suitable appointment.
To make a booking or to find out more about our services you can call us or talk to us online now using our LiveChat facility by clicking the image below.
Local Information On
Chichester
The city of Chichester, with a population of 31,751 residents, is based on the county of West Sussex. The city is well-connected because of its excellent transportation links with accessible train stations and roads. In addition to that, air travel is also available since Gatwick Airport is just one hour away from Chichester. For the youth, primary and secondary educational institutions are within reach to provide learning spaces. There are also a wide range of restaurants, bars, and coffee shops to choose from if you're interested.
Chichester, a cathedral city, is famous for its Chichester Cathedral because of its elegant and sophisticated architecture. Other than that, the city also takes pride in its galleries, such as Pallant House Gallery and Otter Gallery, that displays creative collections of arts. Moreover, there is also a theatre inside the city, namely Chichester Festival Theatre, where you can watch a range of performances that include musicals, drama, and many more. Lastly, some more must-visit attractions are Fishbourne Roman Palace, The Novium, and Priory Park.
Plumbingforce Service Area