ENGINEERS IN YOUR AREA TODAY!
Coventry

Plumbers & Gas Engineers
Local based Gas Safe registered plumbers covering Coventry. With over 2000 Reviews We offer Same Day service with an emergency response.
Coventry Customer Reviews
The engineer who came was punctual, polite, friendly, very efficient and was prepared to run the extra mile to ensure my needs were satisfied.
Rikki worked non stop from the moment he arrived. He was pleasant and answered our questions professionally. Job done in no time. The company kept us informed of time of arrival. Job well done.
Excellent service and the person who camewas knowledgable and took the time to explain things and how it works. Will go through it with more detail when he puts the boiler in tomorrow. Anywhere else was saying in 10 days time. Highly recommend PFORCE.
This was excellent service in a very short timescale at a reasonable price. I contacted the company as I needed a gas engineer and agreed a time for the next day. I was contacted by phone that morning to say the engineer was on his way followed by an email which stated his name and picture plus his registration. He carried out the work very efficiently. I am very pleased with the work and this company.
Plumbingforce Gas Safe engineers are available in Coventry to help take the stress out of your plumbing, gas, & boiler issues
Ensuring your boiler is serviced is paramount to maintaining the efficiency of your system
Authorised members of Gas Safe (registration number 551780) offering gas repair/installation services in Coventry
Plumbing Repairs & Services, Boiler Installations in
Coventry
We serve the whole of Coventry and the other towns in the West Midlands including Birmingham, Solihull, Hinckley, Rugby, Meriden, Kenilworth, Bedworth, and Nuneaton.
Our engineers can repair and service most system to ensure that it operates at the right efficiency. We also make sure that we prevent further problems from arising. If we discover an issue, our Gas-Safe registered plumbers can investigate further and give you their diagnosis and plan of action. You are not obligated to push through with the repairs.
The services offered by our plumbing and heating engineers are not limited to residential areas alone, but also commercial establishments that have more complex technical issues. You don't have to worry about how our engineers will handle your appliances because they are professionals with Gas Register ID cards that present the gas works they are verified to perform. From boiler repairs, shower heater services, gas cooker installation, to pipes, faucets, and toilet flush maintenance, you can count on them to address and fix your problems.
Radiator & Central Heating Services in
Coventry
Our plumbing and heating engineers in Coventry can service, repair, install and provide maintenance checks on any central heating system at your property. Simply give us a call and our friendly customer service representative will be happy to schedule you with an appointment.
If you have an emergency situation, we can respond to you immediately as we offer same-day service. We understand that emergencies can be unpredictable, so to not make matters worse, our team of engineers can be at your doorstep as soon as they receive your call!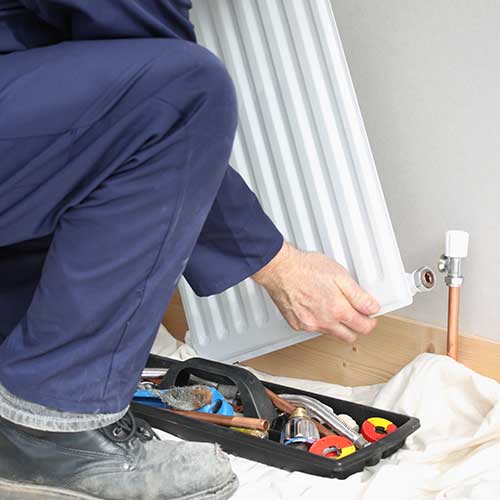 Gas Safe Registered Plumbers In
Coventry
Your safety is our main priority. This is the reason why we only employ plumbers and gas engineers who are registered on the Gas Safe Register. The Gas Safe Register has tight measures set in place to ensure that all of the gas engineers on their list are qualified and competent in handling all gas-related issues in your household. What this means is that all individuals employed by Plumbingforce are equipped with sufficient knowledge to handle any plumbing or gas-related issue they face.
We operate a fast same day service throughout all of Coventry & our coverage areas, particularly when a plumbing emergency arises. From boiler repairs, leaking and burst pipes, to toilets which won't flush and showers which are always cold, contact us to get these sorted in the quickest possible time.
If you have a problem that requires immediate attention, contact Plumbingforce today to arrange one of our emergency team members to attend your property without delay!
Plumbing Prices In
Coventry
Plumbing
Local plumbers ready to assist with one call
£
99
Per Hour + vat
General Repair & Installations
Appliance Fitting
Expert Installers for your new appliances
£
99
Per Hour + vat
General Repair & Installations
Gas
Gas Safe Registered Plumbers at your service
£
99
Per Hour + vat
Gas Fire Repair/Servicing

General Gas Repair / Installations
Boiler Services
Hassle-Free Boiler Installations, Repairs and Maintenance
£
99
Per Hour + vat
Boiler Servicing (Fixed Price)

Gas Checks CP12 (Fixed Price)
Local Heating Engineer and Local Gas Engineer in
Coventry
Our heating engineers are experienced commercial gas safe registered engineer qualified to work on packaged burners, industrial boilers, gas fired heaters, warm air unit and more gas appliances.
Andy Troth
Gas Safe Engineer
Matthew Edwards
Gas Safe Engineer
Neil Heelas
Gas Safe Engineer
Sam Curtis
Gas Safe Engineer
Stephen Blair
Gas Safe Engineer
Please complete the enquiry form below, and send your details to our Coventry customer service team. Once you have completed this form, one of our advisors will contact you to discuss your requirements further and to arrange a suitable appointment.
To make a booking or to find out more about our services you can call us or talk to us online now using our LiveChat facility by clicking the image below.
Local Information On
Coventry
Coventry is a metropolitan city in the county of West Midlands that holds many wonderful places to visit. In fact, the area has a lot to offer from nature preserves, green spaces, historic buildings, to museums! 
In case you are interested to visit Coventry, there are a lot of points of interest you should explore such as Cook Street Gate, Bagot's Castle, Coventry Cathedral, St. John the Baptist Church, St. Mary's Guildhall, The Weaver's House, and St. Michael's Tower Climb. Furthermore, the modern architectural design of Coventry Tourist Information Centre has also awed many visitors!
Aside from the charming buildings,  Coventry also has awe-inspiring venues for their cultural heritage like Midland Air Museum, Herbert Art Gallery & Museum, Coventry Transport Museum, and Coventry Music Museum. In terms of the arts and theatre, Albany Theatre, Belgrade Theatre, Criterion Theatre, The Empire, Warwick Arts Centre, and Showcase Cinema De Lux are amazing venues to witness the hard-works of indie theatre companies, band concerts and blockbuster films!
With a population of 366,785 residents, the place never gets boring with all the happenings and the places to go to! Although, if you want to unwind by yourself or with family in a peaceful place, there are gardens and parks that you can choose from! To name we have, Allesley Park, Allesley Walled Garden, Caludon Castle Park, Longford Park, War Memorial Park, Brandon Marsh Nature Centre, Coombe Country Park, and Ryton Pools Country Park.
Plumbingforce Service Area