ENGINEERS IN YOUR AREA TODAY!
Eccles

Plumbers & Gas Engineers
Local based Gas Safe registered plumbers covering Eccles. With over 5000 Reviews We offer Same Day service with an emergency response.
They are a company of their words. Had a leaking in a few areas and tech came to my house as scheduled. Gave me options and selected to replaced pipe and did it professionally and timely. Highly recommend!
I can't say enough about this company! For the second time in the past 4 months I have needed a plumber. I was able to get Ivan to my house in a very quick time frame. My guest shower was leaking this time and explained that it was the cartridges for the shower valve. Plumbingforce is definitely the place to call for plumbing needs!
These guys are the best. On time, professional & the best plumbing company I've worked with so far for my business. I have found their work to be of high quality and enjoy their technicians. Definitely use these guys for everything.
Excellent service our plumber was Micheal rye , my husband spoke to him in the morning we had another plumber out who had messed up , he came straight away and problem was fixed in a couple of hours , he never stopped worked hard and told us step by step what the problem was , great chap and highly recommended!!!
Plumbingforce Gas Safe engineers are available in Eccles to help take the stress out of your plumbing, gas, & boiler issues
Ensuring your boiler is serviced is paramount to maintaining the efficiency of your system
Authorised members of Gas Safe (registration number 551780) offering gas repair/installation services in Eccles
Plumbing Repairs & Services, Boiler Installations in
Eccles
We serve the whole of the Eccles and other towns in the North West including Chester, Lancaster, Liverpool, Manchester, Salford, Northwich, Altrincham, Ellesmere Port, Runcorn, Warrington, and much more.
Our engineers can repair and service most system to ensure it operates at the right efficiency and also prevents further problems from arising. If your boiler has a problem, we can also investigate saving you from the stress and hassle caused by the issues.
And if you think that we're only servicing households, think again. Businesses and facilities are welcome to avail our services if there's something that needs to be fixed. Shower services, gas cooker installations, boiler services and boiler maintenance, our plumbers are prepared to serve you and get things done!
As for the safety and validity of our gas engineers, each one has a Gas Safe Register ID card to show their verification which type of gas work.
Radiator & Central Heating Services in
Eccles
Our Eccles plumbing and heating engineers can service, repair, install and maintain any domestic central heating system at your property, simply call our friendly team and we will schedule an appointment to suit you.
If your central heating system is malfunctioning, then it definitely needs to be fixed ASAP. You don't have to worry though. Plumbingforce offers same-day services to make sure that kind of emergencies are fixed quickly.
Same-day services have the benefit of tackling the issue early, and  preventing more problems as time goes on. It's typical for fragile materials like your boiler and pipes to deteriorate faster when things aren't working properly. By dealing with the problem on the day that you find out about it, you guarantee that everything's working properly again. The damage done does not accumulate and you don't have to replace any parts of your plumbing system.
If ever the need for same-day services arises, hit us up and book our services. Our plumbers are there to fix it in no time!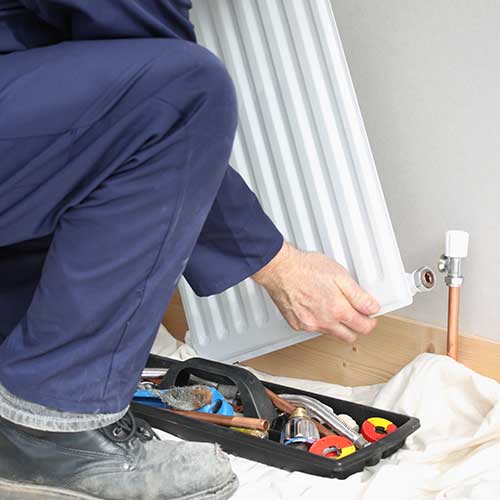 Gas Safe Registered Plumbers In
Eccles
Our engineers can repair and service most system to ensure it operates at the right efficiency and also prevents further problems from arising.If your boiler has a problem, we can also investigate saving you from the stress and hassle caused from the issues.
We operate a fast same day service throughout all of Eccles & our coverage areas, particularly when a plumbing emergency arises. From boiler repairs, leaking and burst pipes, to toilets which won't flush and showers which are always cold, contact us to get these sorted in the quickest possible time.
If you have a problem that requires immediate attention, contact Plumbingforce today to arrange one of our emergency team members to attend your property without delay!
Plumbing Prices In
Eccles
Plumbing
Local plumbers ready to assist with one call
£
99
Per Hour + vat
General Repair & Installations
Appliance Fitting
Expert Installers for your new appliances
£
99
Per Hour + vat
General Repair & Installations
Gas
Gas Safe Registered Plumbers at your service
£
99
Per Hour + vat
Gas Fire Repair/Servicing

General Gas Repair / Installations
Boiler Services
Hassle-Free Boiler Installations, Repairs and Maintenance
£
99
Per Hour + vat
Boiler Servicing (Fixed Price)

Gas Checks CP12 (Fixed Price)
Our Registered Plumbers In
Eccles
Our heating engineers are experienced commercial gas safe registered engineer qualified to work on packaged burners, industrial boilers, gas fired heaters, warm air unit and more gas appliances.
Adam Vipond
Gas Safe Engineer
Anthony Bilson
Gas Safe Engineer
Ben Briden
Gas Safe Engineer
Chris Walton
Gas Safe Engineer
Please complete the enquiry form below, and send your details to our Eccles customer service team. Once you have completed this form, one of our advisors will contact you to discuss your requirements further and to arrange a suitable appointment.
To make a booking or to find out more about our services you can call us or talk to us online now using our LiveChat facility by clicking the image below.
Local Information On
Eccles
Portsmouth is a coastal town in Hampshire, England known for having superb military and maritime museums. To add, it is also the birthplace of Charles Dickens and was the home of Conan Doyle and Rudyard Kipling!
If you are in town and would love to discover the town's tourist attractions, you can sort out your list and get yourself ready to see the Portsmouth Historic Dockyard, Royal Garrison Church, Portsmouth Guildhall,  Millenium Promenade,  and Southsea Castle. There are even amenities for you to experience fun activities in South Coast Waterpark, Blue Reef Aquarium, and Spinnaker Tower. 
Furthermore, Portsmouth also houses a lot of great museums that highlight the town's culture and heritage like The Mary Rose Museum, Cumberland House Natural History Museum, Charles Dickens' Birthplace Museum, Portsmouth Museum and Art Gallery, and the Royal Navy Submarine Museum. 
In case that you are interested to shop along Portsmouth, Gunwharf Quays will be your favourite spot as they have over 95 shopping outlets, and facilities for entertainment such as casinos, art gallery, nightclubs, and cinemas. If you get hungry, you can stop by at the local restaurants and cafes in Port Solent and Gunwharf Quays that offers a diverse range of cuisines from African, Chinese, Indian, Turkish, Lebanese, traditional English, and even Japanese!