ENGINEERS IN YOUR AREA TODAY!
Enfield

Plumbers & Gas Engineers
Local based Gas Safe registered plumbers covering Enfield. With over 5000 Reviews We offer Same Day service with an emergency response.
Very pleased with the services of Plumbing Force. The plumber fixed the issue we had in our kitchen and even had suggestions for the short term and long term.
Very friendly and helpful plumbers. Polite and courteous. They were able to identify, and rectify the problems with the allotted time frame. I will certainly use them again.
The Plumber was excellent, knew exactly what to do. He worked fast and efficiently. He was friendly and even solved a couple of other minor issues unrelated to the plumbing. Thanks again
Really great service was in and relasied the problem very quick done other checks on the boiler also what may breakdown at times. Fixed it and explained exactly what was wrong and what i can do prevent this and what i am ok to do on my own if there is the same fault. Was low water pressure. Great service will use again and recommend to others.
Plumbingforce Gas Safe engineers are available in Enfield to help take the stress out of your plumbing, gas, & boiler issues
Ensuring your boiler is serviced is paramount to maintaining the efficiency of your system
Authorised members of Gas Safe (registration number 551780) offering gas repair/installation services in Enfield
Plumbing Repairs & Services, Boiler Installations in
Enfield
We serve the whole of the Enfield and other towns in the South East including Barnet, Crawley, Ringwood, Witney, Epsom, Woking, Greenwich and much more. 
Our engineers can repair and service most system to ensure it operates at the right efficiency and also prevents further problems from arising.If your boiler has a problem, we can also investigate saving you from the stress and hassle caused from the issues
The plumbers and engineers of Plumbingforce are professional in the fields they handle such as installation, repairs, and maintenance of gas cookers, boilers, shower heaters, faucets, pipes and even water systems. The services offered by our engineers are not limited to just residential areas, but also commercial establishments with far more complicated faulty issues as it holds a large property.
In case you want to guarantee that our heating and plumbing engineers are qualified to serve you,  they have their Safe Gas Register ID card that indicates the type of service they are able to undertake.
Radiator & Central Heating Services in
Enfield
Our Enfield plumbing and heating engineers can service, repair, install and maintain any domestic central heating system at your property, simply call our friendly team and we will schedule an appointment to suit you.
At times, scheduling an appointment for your technical issues is not viable when the defects are showing signs of possible accidents. To ensure your safety, Plumbingforce offers a same-day service so that we can prevent any casualties to happen. It is an important factor of Plumbingforce since one of our mission is to secure the safety of your property, and those surrounding the area.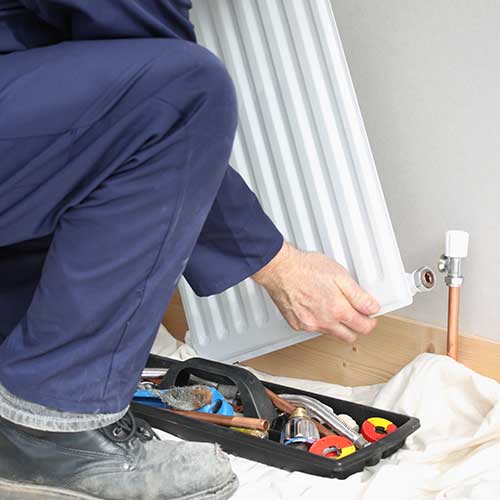 Gas Safe Registered Plumbers In
Enfield
Our engineers can repair and service most system to ensure it operates at the right efficiency and also prevents further problems from arising.If your boiler has a problem, we can also investigate saving you from the stress and hassle caused from the issues.
We operate a fast same day service throughout all of Enfield & our coverage areas, particularly when a plumbing emergency arises. From boiler repairs, leaking and burst pipes, to toilets which won't flush and showers which are always cold, contact us to get these sorted in the quickest possible time.
If you have a problem that requires immediate attention, contact Plumbingforce today to arrange one of our emergency team members to attend your property without delay!
Plumbing Prices In
Enfield
Plumbing
Local plumbers ready to assist with one call
£
99
Per Hour + vat
General Repair & Installations
Appliance Fitting
Expert Installers for your new appliances
£
99
Per Hour + vat
General Repair & Installations
Gas
Gas Safe Registered Plumbers at your service
£
99
Per Hour + vat
Gas Fire Repair/Servicing

General Gas Repair / Installations
Boiler Services
Hassle-Free Boiler Installations, Repairs and Maintenance
£
99
Per Hour + vat
Boiler Servicing (Fixed Price)

Gas Checks CP12 (Fixed Price)
Our Registered Plumbers In
Enfield
Our heating engineers are experienced commercial gas safe registered engineer qualified to work on packaged burners, industrial boilers, gas fired heaters, warm air unit and more gas appliances.
Charlie Happer
Gas Safe Engineer
Danny Tomlins
Gas Safe Engineer
Jack Cranfield
Gas Safe Engineer
Simon Thomas
Gas Safe Engineer
Stephen Fry
Gas Safe Engineer
Please complete the enquiry form below, and send your details to our Enfield customer service team. Once you have completed this form, one of our advisors will contact you to discuss your requirements further and to arrange a suitable appointment.
To make a booking or to find out more about our services you can call us or talk to us online now using our LiveChat facility by clicking the image below.
Local Information On
Enfield
Enfield is a delightful town in Greater London and has great places to visit like their Forty Hall & Estate which is a grand historic home that can holds events and exhibits, and the Lee Valley White Water Centre that is famous for family and friends bonding.
Commercial establishments are also a rising factor of Enfield.  The shopping centre named Palace Exchange is a large commercial space where many independent shops and international chains of stores are located.  So, if you are a fan of shopping and hauling for the trendy and fashionable clothes, an enthusiast for gadgets, Palace Exchange is a great place for you! In fact, another area for business is the local and historical Enfield Market that has been voted as the Best Community Market of 2016! Here, you can find many local products such as wine, meat, vintage items, and others.
Since Enfield is a home for a population of 333,869 individuals, green spaces are vital in enhancing the quality of life of the residents. To name, we have the Trent Park, Capel Manor Gardens, Parkside Farm, Broomfield Park, Bury Lodge Park, and Enfield Town Park.
Some hidden gems in Enfield are the Whitewebbs Museum of Transport and Myddelton House Gardens. A number of cafes, pubs, and restaurants are also available in town that ranges from Indian cuisine, French Dining, English pubs to Greek bakeries. Lastly, if you want to check out how Enfield displays their culture and arts, Millfield and Dugdale Centres is one of Enfield's facilities that allows residents and visitors to watch the latest productions!
Plumbingforce Service Area