ENGINEERS IN YOUR AREA TODAY!
Kettering

Plumbers & Gas Engineers
Local based Gas Safe registered plumbers covering Kettering. With over 2000 Reviews We offer Same Day service with an emergency response.
Kettering Customer Reviews
I was pleased with the work and explanation of problem. Would recommend and use again. Cost always a worry when do not know the time to resolve but a competitive price compared to others.
Gas fitter went out of his way , found a small gas leak on my boiler . Fitted my gas hob excellent job thank you . Quite expensive but that's what you pay for good service.
The service I received was first class. Reported faulty boiler, Engineer turned up the next morning, got the faulty part within an hour and problem solved. I was also notified by text message confirming the visit. Thank you Plumbingforce.
Man that came very friendly and cheerful. Got on with job. Had to go out pick up part and got it fitted and boiler working in time he said. Didn't do anything without checking I was happy with the work he need to do, also gave me useful feedback for needing to change boiler in future as this one is old.
Plumbingforce Gas Safe engineers are available in Kettering to help take the stress out of your plumbing, gas, & boiler issues
Ensuring your boiler is serviced is paramount to maintaining the efficiency of your system
Authorised members of Gas Safe (registration number 551780) offering gas repair/installation services in Kettering
Kettering

Plumbing Repairs & Services, Boiler Installations
We serve the whole of the Kettering and other towns in the East Midlands including Nottingham, Leicester, Derby, Lincoln, Hinckley, Northampton, and much more.
Our engineers can repair and service most system to ensure it operates at the right efficiency and also prevents further problems from arising.If your boiler has a problem, we can also investigate saving you from the stress and hassle caused from the issues.
Our plumbers are experts are checking if your heating systems need some cleaning, maintenance or replacement. We use a method called power flushing wherein high-velocity (but low pressure) water runs inside the body of your radiator to remove pre-existing rust or black sludge. If you need to install a new one for your property, we can give you some recommendations that match your needs and your space. We are also experts at installing a Megaflo water system and are willing to share maintenance tips to keep it running properly. After all, maintenance is always better than an eventual replacement and instalment.
Radiator & Central Heating Services
Our Kettering plumbing and heating engineers can service, repair, install and maintain any domestic central heating system at your property, simply call our friendly team and we will schedule an appointment to suit you.
Your radiator or heating system needs to be in its best condition so that it can function properly. While you can clean its exterior and run some maintenance checks, dirt and dust can cause its internal machinery to overheat and, eventually, break down. For this issue, you will need to give us a call to ensure that we can drain and repair your radiator before the damage worsens.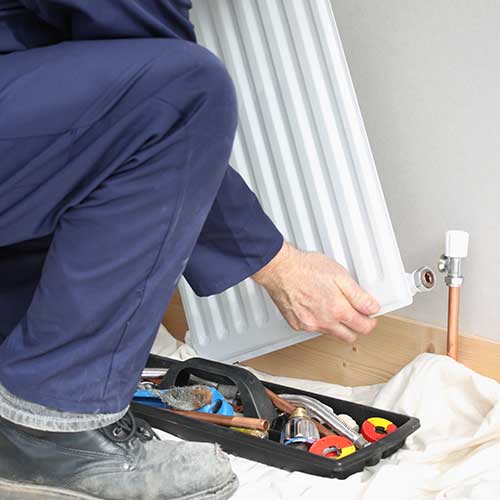 Gas Safe Plumbers In
Kettering
Our engineers can repair and service most system to ensure it operates at the right efficiency and also prevents further problems from arising.If your boiler has a problem, we can also investigate saving you from the stress and hassle caused from the issues.
We operate a fast same day service throughout all of Kettering & our coverage areas, particularly when a plumbing emergency arises. From boiler repairs, leaking and burst pipes, to toilets which won't flush and showers which are always cold, contact us to get these sorted in the quickest possible time.
If you have a problem that requires immediate attention, contact Plumbingforce today to arrange one of our emergency team members to attend your property without delay!
Plumbing Prices In
Kettering
Plumbing
Local plumbers ready to assist with one call
£
99
Per Hour + vat
General Repair & Installations
Appliance Fitting
Expert Installers for your new appliances
£
99
Per Hour + vat
General Repair & Installations
Gas
Gas Safe Registered Plumbers at your service
£
99
Per Hour + vat
Gas Fire Repair/Servicing

General Gas Repair / Installations
Boiler Services
Hassle-Free Boiler Installations, Repairs and Maintenance
£
99
Per Hour + vat
Boiler Servicing (Fixed Price)

Gas Checks CP12 (Fixed Price)
Local Heating Engineer and Local Gas Engineer in
Kettering
Gas engineers are trained and equipped to install, repair and maintain the gas appliances inside your home. May it be a boiler, a stove or a gas fireplace, Plumbingforce engineers are Gas Safe Registered, certifying that they have the expertise and tools to work with your appliances. It also doesn't matter what kind of burner you have; packaged burners, industrial burners, gas-fired heaters, or warm air unit, we are the right people for the job. Once you give us a call, our engineers will be at your doorstep within one to three hours if it is deemed an emergency.  
Adam Vipond
Gas Safe Engineer
Anthony Bilson
Gas Safe Engineer
Ben Briden
Gas Safe Engineer
Dan Lucas
Gas Safe Engineer
Please complete the enquiry form below, and send your details to our Kettering customer service team. Once you have completed this form, one of our advisors will contact you to discuss your requirements further and to arrange a suitable appointment.
To make a booking or to find out more about our services you can call us or talk to us online now using our LiveChat facility by clicking the image below.
Local Information On
Kettering
Kettering is a town located in Northamptonshire with about 90,000 residents. As it is in the centre of England, it is easier to travel to other towns and cities by the Midland Main Line railway. Previously called Cytringan, Kyterinas and Keteiringan in the 10th century, the town was a vast meadow until the medieval period. During the Industrial Revolution, towns in Northamptonshire were converted into dwelling places for factory owners and worker. If you walk around town, many of the old terraced buildings were the for factory workers.
Today, the countryside still has remnants of an older time as older homes and sprawling fields dominate the space. For this reason, it is a great place to walk around and explore. You may visit the Boughton Park and House or meditate in the Weekley Hall Wood.