ENGINEERS IN YOUR AREA TODAY!
Leicester

Plumbers & Gas Engineers
Local based Gas Safe registered plumbers covering Leicester. With over 2000 Reviews We offer Same Day service with an emergency response.
Leicester Customer Reviews
Office staff were lovely (even at 7am on Friday) they kept me informed. The engineer was pleasant and polite, checked everything made no mess, AND I AM LOVELY AND WARM
Great service from the person who,came. Sadly he couldn't mend the boiler, but came with a mate and fitted a brand new one the following day. Polite, friendly and efficient. Cleaned up after themselves. A credit to you.
Only called at 3.30am yesterday. We were told that the engineer would arrive between 12 noon and 4pm. They arrived at 12.05. Very friendly, professional and efficient service. Got the whole job done in the hour. Excellent service would definitely use them again.
had booked a service, WEEKS AGO. Taken the day off work to sit in and wait … between 8 and 12 Able told me. At 10.56 they rang to say they wouldn't be able to make it! My neighbour told me about Plumbing Force – I rang and spoke to Jess, she got me an engineer IN ONE HOUR. Not only that, he was able to work out (and fix) a fault that British Gas hadn't been able to sort out for me in 3 years … and he did this in less than 90 minutes.
Plumbingforce Gas Safe engineers are available in Leicester to help take the stress out of your plumbing, gas, & boiler issues
Ensuring your boiler is serviced is paramount to maintaining the efficiency of your system
Authorised members of Gas Safe (registration number 551780) offering gas repair/installation services in Leicester
Leicester

Plumbing Repairs & Services, Boiler Installations
We serve the whole of the Leicester and other towns in the East Midlands including Nottingham, Derby, Lincoln, Hinckley, Kettering, Northampton, and much more.
Our engineers can repair and service most system to ensure it operates at the right efficiency and also prevents further problems from arising.If your boiler has a problem, we can also investigate saving you from the stress and hassle caused from the issues.
Food and grease are common causes for pipe blockage. For your shower area, the most common cause would be hair. Plumbingforce plumbers are adept are investigating your pipes whether the clog is in your kitchen sink, bathroom toilet or bathing areas. Once they have deduced the cause, they can unclog your pipelines without causing damage. Afterwards, they can share maintenance tips to keep these things from happening again should you want to avoid having your pipelines replaced. After all, maintenance is always better than an eventual replacement and instalment. 
Radiator & Central Heating Services
Our Leicester plumbing and heating engineers can service, repair, install and maintain any domestic central heating system at your property, simply call our friendly team and we will schedule an appointment to suit you.
A leak or a malfunctioning radiator can be bad news on a cold morning. Once you put up towels around the leak, call our Plumbingforce engineers to help you investigate the problem and make the necessary repairs (or replacement). Should a replacement happen, we are happy to give recommendations that fit your needs and property. Afterwards, we can also share tips on how to properly clean and maintain your heating system. This way, it can last longer in your household. We also recommend booking a yearly or quarterly maintenance check with us so that we can clean the parts you cannot reach.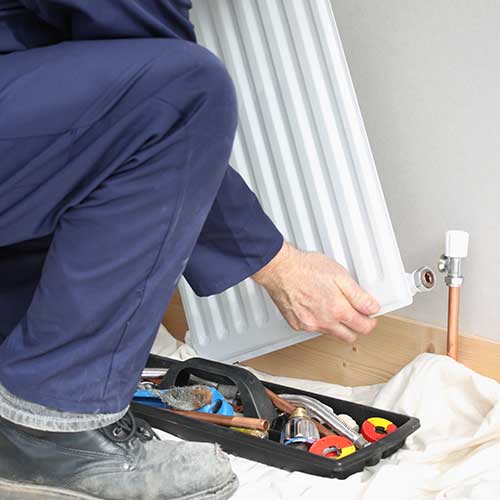 Gas Safe Plumbers In
Leicester
Our engineers can repair and service most system to ensure it operates at the right efficiency and also prevents further problems from arising.If your boiler has a problem, we can also investigate saving you from the stress and hassle caused from the issues.
We operate a fast same day service throughout all of Leicester & our coverage areas, particularly when a plumbing emergency arises. From boiler repairs, leaking and burst pipes, to toilets which won't flush and showers which are always cold, contact us to get these sorted in the quickest possible time.
If you have a problem that requires immediate attention, contact Plumbingforce today to arrange one of our emergency team members to attend your property without delay!
Plumbing Prices In
Leicester
Plumbing
Local plumbers ready to assist with one call
£
99
Per Hour + vat
General Repair & Installations
Appliance Fitting
Expert Installers for your new appliances
£
99
Per Hour + vat
General Repair & Installations
Gas
Gas Safe Registered Plumbers at your service
£
99
Per Hour + vat
Gas Fire Repair/Servicing

General Gas Repair / Installations
Boiler Services
Hassle-Free Boiler Installations, Repairs and Maintenance
£
99
Per Hour + vat
Boiler Servicing (Fixed Price)

Gas Checks CP12 (Fixed Price)
Local Heating Engineer and Local Gas Engineer in
Leicester
Gas engineers have an in-depth understanding of different systems, making them skilled for gas or water work. To ensure that, all our engineers are Gas Safe Registered. This certifies that they are trained to install, repair and replace heating systems, stoves or other gas appliances in your property. Once you give us a call, they will be at your doorstep within one to three hours if it is deemed an emergency. 
Andy Troth
Gas Safe Engineer
Chris Geary
Gas Safe Engineer
Neil Heelas
Gas Safe Engineer
Stephen Blair
Gas Safe Engineer
Please complete the enquiry form below, and send your details to our Leicester customer service team. Once you have completed this form, one of our advisors will contact you to discuss your requirements further and to arrange a suitable appointment.
To make a booking or to find out more about our services you can call us or talk to us online now using our LiveChat facility by clicking the image below.
Local Information On
Leicester
Located in the county town of Leicestershire in the East Midlands of England, Leicester is a city of about 350,000 residents. With the city built on the River Soar and lying close too the eastern end of the National Forest, Leicester is a mix of the charming, rural past and the modernised, innovative present.
Named after a people that once settled in the city, Ligore, and the Old English word ceaster that means town, Leicester teems with buildings that hark of 20th-century architecture and green, public parks. While the city has been founded over 2,000 years back, Leicester's modernisation and high quality of living have attracted people of diverse backgrounds and cultures. Being a melting pot of different cultures, students and teachers from different countries enter universities in Leicester.
Plumbingforce Service Area