ENGINEERS IN YOUR AREA TODAY!
Lincoln

Plumbers & Gas Engineers
Local based Gas Safe registered plumbers covering Lincoln. With over 5000 Reviews We offer Same Day service with an emergency response.
I was pleased with the work and explanation of problem. Would recommend and use again. Cost always a worry when do not know the time to resolve but a competitive price compared to others.
Gas fitter went out of his way , found a small gas leak on my boiler . Fitted my gas hob excellent job thank you . Quite expensive but that's what you pay for good service.
The service I received was first class. Reported faulty boiler, Engineer turned up the next morning, got the faulty part within an hour and problem solved. I was also notified by text message confirming the visit. Thank you Plumbingforce.
Man that came very friendly and cheerful. Got on with job. Had to go out pick up part and got it fitted and boiler working in time he said. Didn't do anything without checking I was happy with the work he need to do, also gave me useful feedback for needing to change boiler in future as this one is old.
Plumbingforce Gas Safe engineers are available in Lincoln to help take the stress out of your plumbing, gas, & boiler issues
Ensuring your boiler is serviced is paramount to maintaining the efficiency of your system
Authorised members of Gas Safe (registration number 551780) offering gas repair/installation services in Lincoln
Plumbing Repairs & Services, Boiler Installations in
Lincoln
We serve the whole of the Lincoln and other towns in the East Midlands including Nottingham, Leicester, Derby, Hinckley, Kettering, Northampton,  and much more. 
Our engineers can repair and service most system to ensure it operates at the right efficiency and also prevents further problems from arising.If your boiler has a problem, we can also investigate saving you from the stress and hassle caused from the issues.
Do you notice your old heating system starting to break down? If you start noticing leaks and sputtering noises coming from your radiator or boiler, it's time for a maintenance check. Our gas engineers and plumbers can run a test if your heating system needs repair or replacement. We've got the expertise and the tools for either. If you need a new installation, we'd be happy to recommend a few models that match the layout and the needs of your property, domestic or otherwise. If you have made your choice, we can install the model you want and run a few tests after setting it up.
Our plumbers can also offer the same services for your showerheads, taps and pipelines.
Radiator & Central Heating Services in
Lincoln
Our Lincoln plumbing and heating engineers can service, repair, install and maintain any domestic central heating system at your property, simply call our friendly team and we will schedule an appointment to suit you.
Today, customers expect empathetic engagement and high-quality service. Because we believe in creating a harmonious relationship with our clients, we want to give them what they need at the hour they want. Since most of the appliances we work with are often used for day-to-day activities, we ensure that our engineers and plumbers arrive at your property on the same day of your call. This will help keep both your possessions and your wallet from unnecessary damage. To prevent breakage, our engineers conduct a risk assessment before starting their job. Should the issue be an emergency, we can guarantee that we will arrive within one to three hours of your call and get the job done just as quickly.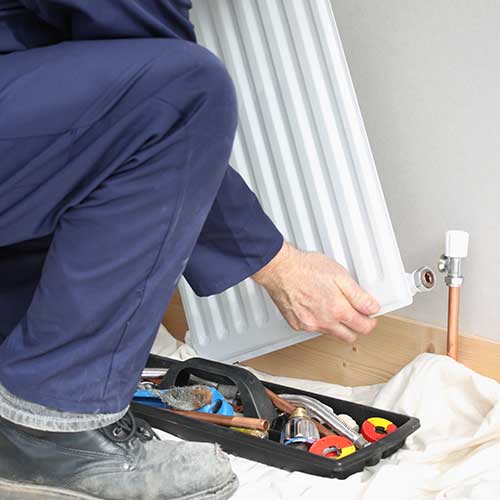 Gas Safe Plumbers In
Lincoln
Our engineers can repair and service most system to ensure it operates at the right efficiency and also prevents further problems from arising.If your boiler has a problem, we can also investigate saving you from the stress and hassle caused from the issues.
We operate a fast same day service throughout all of Lincoln & our coverage areas, particularly when a plumbing emergency arises. From boiler repairs, leaking and burst pipes, to toilets which won't flush and showers which are always cold, contact us to get these sorted in the quickest possible time.
If you have a problem that requires immediate attention, contact Plumbingforce today to arrange one of our emergency team members to attend your property without delay!
Plumbing Prices In
Lincoln
Plumbing
Local plumbers ready to assist with one call
General Repair & Installations
Appliance Fitting
Expert Installers for your new appliances
General Repair & Installations
Gas
Gas Safe Registered Plumbers at your service
Gas Fire Repair/Servicing

General Gas Repair / Installations
Boiler Services
Hassle-Free Boiler Installations, Repairs and Maintenance
Boiler Servicing (Fixed Price)

Gas Checks CP12 (Fixed Price)
Our Registered Plumbers In
Lincoln
Our heating engineers are experienced commercial gas safe registered engineer qualified to work on packaged burners, industrial boilers, gas fired heaters, warm air unit and more gas appliances.
Adam Vipond
Gas Safe Engineer
Anthony Bilson
Gas Safe Engineer
Ben Briden
Gas Safe Engineer
Chris Walton
Gas Safe Engineer
Please complete the enquiry form below, and send your details to our Lincoln customer service team. Once you have completed this form, one of our advisors will contact you to discuss your requirements further and to arrange a suitable appointment.
To make a booking or to find out more about our services you can call us or talk to us online now using our LiveChat facility by clicking the image below.
Local Information On
Lincoln
Located in Lincolnshire in the East Midlands of England, Lincoln is a cathedral city of 95,000 residents. Coming from the Bryothonic language, Lindonn was used to name the town. Meaning "The Pool", the first settlements were built around and because of the Brayford Pool at the foot of the Lincoln Cathedral and Lincoln Castle (previously known as the River Witham).
The construction of the first Lincoln Cathedral was completed in 1092. After being rebuilt multiple times, the cathedral only continued expanding, its spires getting taller. One of the spires was once known to be the highest in Europe, looking over Nottingham at 525 ft. During that time, it even surpassed the Pyramids of Egypt at being the tallest man-made structure in the world. Today, the church still stands; majestic and ethereal, a reminder of the immortal and holy.
Thanks to the Industrial Revolution, companies such as Clayton & Shuttleworth, Proctor and William Foster & Co. were founded. The town became the centre for heavy engineering, locomotives and steam-powered shovels. When walking through Nottingham, the remnants of its medieval and steam-powered roots are still visible. Combined with the electrical innovations of modernity, the town stands as a mosaic of stories.
Plumbingforce Service Area