ENGINEERS IN YOUR AREA TODAY!
Liverpool

Plumbers & Gas Engineers
Local based Gas Safe registered plumbers covering Liverpool. With over 2000 Reviews We offer Same Day service with an emergency response.
Liverpool Customer Reviews
had an enormous problem with boiler. Needed a vent through very thick wall. It took time but when he left I had a fully functioning central heating system. Engineer arrived on time. Plenty of communication, efficient. Very satisfied and relived. Absolutely recommend. Thank you Simon H
Outstanding service & well organized, did exactly what they said on their website. Very professional & prompt job after my hot water tank started leaking & needed a new one. Simon H fitted a new one with no hassle whatsoever & saved the day!
Neil Heelas was my engineer, he was with me very quickly after booking and got my problem sorted well within an hour (was more like half an hour). My sink was pretty terrible and he admitted it was the worst he'd seen but he got it done and with a smile. He's an angel, he got my sink done where Dynorod couldn't/wouldn't. Thanks for helping me!
Engineer Simon H responded within 1.5 hrs, diagnosed boiler fault, we agreed a replacement more economical, and he installed a new boiler the same day. Very professional and efficient. We're still getting our head around the new fangled Baxi thermostat, I preferred the old school easier to understand ones – but as for the engineer, job done, nuff said.
Plumbingforce Gas Safe engineers are available in Liverpool to help take the stress out of your plumbing, gas, & boiler issues
Ensuring your boiler is serviced is paramount to maintaining the efficiency of your system
Authorised members of Gas Safe (registration number 551780) offering gas repair/installation services in Liverpool
Plumbing Repairs & Services, Boiler Installations in
Liverpool
We serve the whole of the Liverpool and other towns in the North West including Chester, Lancaster, Manchester, Salford, Eccles, Northwich, Altrincham, Ellesmere Port, Runcorn, Warrington, and much more.
Our engineers can repair and service most system to ensure it operates at the right efficiency and also prevents further problems from arising.If your boiler has a problem, we can also investigate saving you from the stress and hassle caused from the issues.
Do you have an old boiler and radiator that need a maintenance check? Aside from needing a new Gas Safety certificate, we know that most of your gas appliances need regular cleaning. We use a power flushing method that uses high velocity (but low pressure) water to wash away black sludge and pre-rust that may have gathered on your radiator's body. This will not only prevent leaks but also spending thousands to get a new one installed (as rusts on the body can only be given temporary remedies). If you need a new one installed, we'd be happy to recommend heating systems that work well with your current lifestyle and property layout.
Radiator & Central Heating Services in
Liverpool
Our Liverpool plumbing and heating engineers can service, repair, install and maintain any domestic central heating system at your property, simply call our friendly team and we will schedule an appointment to suit you.
We value giving high-quality service and prompt responses. To ensure that our customers receive only the best, we guarantee a same-day service to repair or install appliances that people use on a daily basis. Whether this is your trusty gas hob, warm fireplace or shiny kitchen sink, we ensure to carry out the task quickly to prevent interrupting your day. Coming to your property immediately also keeps both your possessions and your wallet from unnecessary damage. To prevent appliance breakage, our engineers investigate the problem before going to work. Should the issue be an emergency, we can guarantee that we will arrive within one to three hours of your call and get the job done just as quickly.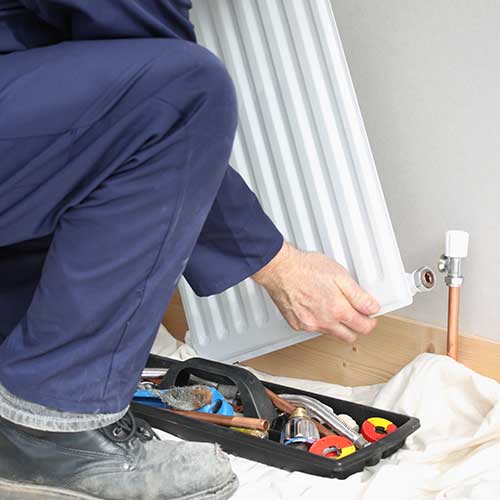 Gas Safe Plumbers In
Liverpool
Our engineers can repair and service most system to ensure it operates at the right efficiency and also prevents further problems from arising.If your boiler has a problem, we can also investigate saving you from the stress and hassle caused from the issues.
We operate a fast same day service throughout all of Liverpool & our coverage areas, particularly when a plumbing emergency arises. From boiler repairs, leaking and burst pipes, to toilets which won't flush and showers which are always cold, contact us to get these sorted in the quickest possible time.
If you have a problem that requires immediate attention, contact Plumbingforce today to arrange one of our emergency team members to attend your property without delay!
Plumbing Prices In
Liverpool
Plumbing
Local plumbers ready to assist with one call
£
99
Per Hour + vat
General Repair & Installations
Appliance Fitting
Expert Installers for your new appliances
£
99
Per Hour + vat
General Repair & Installations
Gas
Gas Safe Registered Plumbers at your service
£
99
Per Hour + vat
Gas Fire Repair/Servicing

General Gas Repair / Installations
Boiler Services
Hassle-Free Boiler Installations, Repairs and Maintenance
£
99
Per Hour + vat
Boiler Servicing (Fixed Price)

Gas Checks CP12 (Fixed Price)
Our Registered Plumbers In
Liverpool
Our heating engineers are experienced commercial gas safe registered engineer qualified to work on packaged burners, industrial boilers, gas fired heaters, warm air unit and more gas appliances.
David Reynolds
Gas Safe Engineer
Please complete the enquiry form below, and send your details to our Liverpool customer service team. Once you have completed this form, one of our advisors will contact you to discuss your requirements further and to arrange a suitable appointment.
To make a booking or to find out more about our services you can call us or talk to us online now using our LiveChat facility by clicking the image below.
Local Information On
Liverpool
As it sits on the eastern side of the Mersey Estuary, Liverpool is a major port that grew to play an important role in England's economic wealth since the Industrial Revolution. Today, the metropolitan borough sitting in the southwestern side of Merseyside has a population of almost 500,000 residents. Its large number of people makes it the 9th largest English district and its lively culture make it the 6th most visited city in the United Kingdom. Famously known for being the city where the Beatles were formed, many people flock to the city to witness its arts and music scene. Apart from that, Liverpool is also known for its grand architecture and its long list of home-grown celebrities, athletes, novelists and comedians. Being the second city in the UK with the most art galleries, museums and parks, you can never run out of things to do in Liverpool.
Plumbingforce Service Area