ENGINEERS IN YOUR AREA TODAY!
London

Plumbers & Gas Engineers
Local based Gas Safe registered plumbers covering London. With over 5000 Reviews We offer Same Day service with an emergency response.
Great customer service, they are top rate with their customer service. Very professional and surprisingly very efficient, came on time, the ability to diagnosed the issue, and fixed the major leaks. Overall, a good experience. We will be using their services for all our future plumbing needs!
A fast reliable service. From the initial phone call to the engineer I found them very friendly and courteous throughout. I received excellent service and will contact them again for any future needs.
Arrived on time. Adam and Craig very polite, listened to what I said. Knew what the problem was straight away. EDF smart meter engineer had messed my timings up so my boiler hadn't been working. They fixed the problem and explained everything to me before leaving. Excellent service highly recommend.
Some of the nicest, timely, efficient and good problem plumbing solvers. They gave me a solid recommendations and follows through. Their response was quick with the right equipment. Everything was cleaned up and boom there were gone and so was my headache. They are 5 stars in all categories.
Plumbingforce has professional plumbers and Gas Safe engineers available in London to help take the stress out of your plumbing, gas, & boiler issues
Maintain the efficiency and lifespan of your boiler by regularly calling a professional plumber for boiler maintenance.
Authorised members of Gas Safe (registration number 551780) offering gas repair/installation services in
London
Plumbing Repairs & Services, Boiler Installations in
London
We serve the whole of the London and other towns in the South East including Colchester, Eastbourne, Oxford, Portsmouth, Chichester, Canterbury and much more.
Our engineers can repair and service most plumbing systems to ensure it operates at the right efficiency. We also prevent further plumbing problems from arising. If you think that your boiler has a problem, give us a call and we'll come to your house in London right away! 
If you're looking for bathroom plumbing, gas cooker installations, boiler services and maintenance, or any other plumbing needs, our plumbers in London are there to serve you! We're not only here to fix problems in your homes. We're ready for London commercial establishments that need plumbers too.
All of our gas engineers have their Gas Safe Register ID Card as proof that they are certified to work with gas plumbing systems.
Radiator & Central Heating Services in
London
Our London plumbing and heating engineers can service, repair, install and maintain any domestic central heating system. Simply call our friendly team and we will schedule an appointment at your convenience.
Need your central heating system in London fixed today? We offer same-day services for any emergencies that need quick fixing to avoid further damages and problems.
The good thing about same-day services is that we deal with issues that may magnify into huge problems the longer it's left untreated. This way, your plumbing systems are less likely to be damaged or broken which may start another issue. Another benefit is that you don't need to worry about the same problem the next day. Or the next week if things really go bad. 
So if you need something fixed ASAP, call PlumbingForce! We offer same-day services to make sure everything is fixed quickly!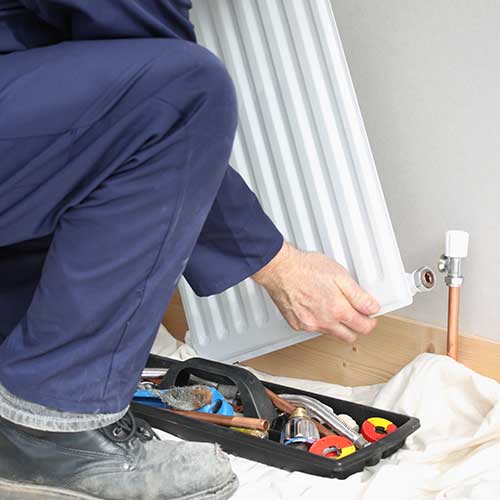 Gas Safe Registered Plumbers In
London
Our engineers can repair and service most system to ensure it operates at the right efficiency and also prevents further problems from arising.If your boiler has a problem, we can also investigate saving you from the stress and hassle caused from the issues.
We operate a fast same day plumbing service throughout all of London & our coverage areas, particularly when a plumbing emergency arises. From boiler repairs, leaking and burst pipes, to toilets which won't flush and showers which are always cold, contact us to get these sorted in the quickest possible time. If you have a problem that requires immediate attention, contact Plumbingforce today to arrange one of our emergency team members to attend your property without delay!
Plumbing Prices In
London
Plumbing
Local plumbers ready to assist with one call
General Repair & Installations
Appliance Fitting
Expert Installers for your new appliances
General Repair & Installations
Gas
Gas Safe Registered Plumbers at your service
Gas Fire Repair/Servicing

General Gas Repair / Installations
Boiler Services
Hassle-Free Boiler Installations, Repairs and Maintenance
Boiler Servicing (Fixed Price)

Gas Checks CP12 (Fixed Price)
Our Registered Plumbers In
London
Our professional plumbers and heating engineers based in London are experienced commercial gas safe registered engineers qualified to work on packaged burners, industrial boilers, gas fired heaters, warm air units and more gas appliances.
Adam Vipond
Gas Safe Engineer
Anthony Bilson
Gas Safe Engineer
Ben Briden
Gas Safe Engineer
Dan Lucas
Gas Safe Engineer
Charlie Happer
Gas Safe Engineer
Danny Tomlins
Gas Safe Engineer
Haydon Palmer
Gas Safe Engineer
Jack Cranfield
Gas Safe Engineer
Joe Maynard
Gas Safe Engineer
Matt Curtis
Gas Safe Engineer
Max Durgun
Gas Safe Engineer
Neil Convey
Gas Safe Engineer
Oliver Oldfield
Gas Safe Engineer
Ricki Greenidge
Gas Safe Engineer
Simon Thomas
Gas Safe Engineer
Stephen Fry
Gas Safe Engineer
Please complete the enquiry form below, and send your details to our London customer service team. Once you have completed this form, one of our advisors will contact you to discuss your requirements further and to arrange a suitable appointment.
To make a booking or to find out more about our services you can call us or talk to us online now using our LiveChat facility by clicking the image below.
Local Information On
London
Ah, the beautiful capital city of England, London. Standing on the River Thames in the south-east of the UK, London has been a major settlement for over 2000 years. It remains as one of the world's most important global cities and is ranked as the 26th out of 300 major cities for economic performance. Oh, it's also the 41st most expensive city in the world so expect cutting corners and lifestyle adjustment if you decide to live here.
Millions of tourists flock to London every year which is why it also has the busiest city airport system as measured by passenger traffic. It's no surprise as the city contains four of the World Heritage Sites: the Tower of London; Kew Gardens; the site where the Palace of Westminster, Westminster Abbey, and St. Margaret's Church; and the historic settlement of Greenwich where you can find the Royal Observatory, and the Prime Meridian or Greenwich Mean Time (GMT).
With a population of around 9.3 million, London feels like the centre of many things. The city exerts a considerable impact on arts, commerce, education, entertainment, fashion, finance, healthcare, media, professional services, research and development, tourism and transportation. No wonder London is a globally-recognized city.
Call Now for our 1-3 hour response*
0330 173 5321