ENGINEERS IN YOUR AREA TODAY!
Malvern

Plumbers & Gas Engineers
Local based Gas Safe registered plumbers covering Malvern. With over 2000 Reviews We offer Same Day service with an emergency response.
The engineer who came was punctual, polite, friendly, very efficient and was prepared to run the extra mile to ensure my needs were satisfied.
Rikki worked non stop from the moment he arrived. He was pleasant and answered our questions professionally. Job done in no time. The company kept us informed of time of arrival. Job well done.
Excellent service and the person who camewas knowledgable and took the time to explain things and how it works. Will go through it with more detail when he puts the boiler in tomorrow. Anywhere else was saying in 10 days time. Highly recommend PFORCE.
This was excellent service in a very short timescale at a reasonable price. I contacted the company as I needed a gas engineer and agreed a time for the next day. I was contacted by phone that morning to say the engineer was on his way followed by an email which stated his name and picture plus his registration. He carried out the work very efficiently. I am very pleased with the work and this company.
Plumbingforce Gas Safe engineers are available in
Malvern
to help take the stress out of your plumbing, gas, & boiler issues
Ensuring your boiler is serviced is paramount to maintaining the efficiency of your system
Authorised members of Gas Safe (registration number 551780) offering gas repair/installation services in
Malvern
Plumbing Repairs & Services, Boiler Installations in
Malvern
We serve the whole of Malvern and the other towns in Worcestershire including Worcester, Droitwich, Evesham, Kidderminster, Gloucester, Redditch, Cheltenham, Hereford, Stourbridge, Halesowen, and Stroud.
Our engineers can repair and service most system to ensure that it operates at the right efficiency. We also make sure that we prevent further problems from arising. If we discover an issue, our Gas-Safe registered plumbers can investigate further and give you their diagnosis and plan of action. You are not obligated to push through with the repairs.
In case you need our services, an appointment can be made so that our engineers can respond and aid you to your establishment's plumbing or heating systems issues. Plumbingforce engineers are qualified to fix damages you have with your water or heating systems.
If you need assurance of our engineers' capabilities, they carry their Gas Safe Register ID card to show you the different services they can manage. Plumbingforce offers services from fixing bathroom setups, installing gas cookers, repairing faulty pipes, to unclogging drains.
Radiator & Central Heating Services in
Malvern
Our plumbing and heating engineers in Malvern can service, repair, install and provide maintenance checks on any central heating system at your property. Simply give us a call and our friendly customer service representative will be happy to schedule you with an appointment.
We understand that problems in your plumbing or gas-related appliances could cause casualties, for this reason, we offer our same-day service to help our clients to resolve their technical problems.  In fact, the same-day service is a significant feature that we offer to you because emergencies can happen anytime and system issues can be risky.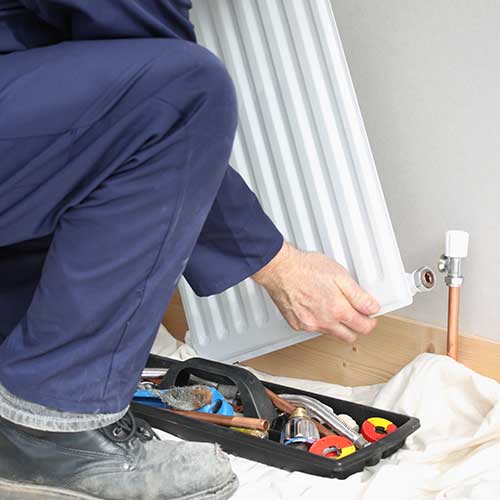 Gas Safe Plumbers In
Malvern
Your safety is our main priority. This is the reason why we only employ plumbers and gas engineers who are registered on the Gas Safe Register. The Gas Safe Register has tight measures set in place to ensure that all of the gas engineers on their list are qualified and competent in handling all gas-related issues in your household. What this means is that all individuals employed by Plumbingforce are equipped with sufficient knowledge to handle any plumbing or gas-related issue they face.
We operate a fast same day service throughout all of
Malvern
& our coverage areas, particularly when a plumbing emergency arises. From boiler repairs, leaking and burst pipes, to toilets which won't flush and showers which are always cold, contact us to get these sorted in the quickest possible time. If you have a problem that requires immediate attention, contact Plumbingforce today to arrange one of our emergency team members to attend your property without delay!
Plumbing Prices In
Malvern
Plumbing
Local plumbers ready to assist with one call
£
99
Per Hour + vat
General Repair & Installations
Appliance Fitting
Expert Installers for your new appliances
£
99
Per Hour + vat
General Repair & Installations
Gas
Gas Safe Registered Plumbers at your service
£
99
Per Hour + vat
Gas Fire Repair/Servicing

General Gas Repair / Installations
Boiler Services
Hassle-Free Boiler Installations, Repairs and Maintenance
£
99
Per Hour + vat
Boiler Servicing (Fixed Price)

Gas Checks CP12 (Fixed Price)
Local Heating Engineer and Local Gas Engineer in
Malvern
Our heating engineers are experienced commercial gas safe registered engineer qualified to work on packaged burners, industrial boilers, gas fired heaters, warm air unit and more gas appliances.
Adam Vipond
Gas Safe Engineer
Anthony Bilson
Gas Safe Engineer
Ben Briden
Gas Safe Engineer
Dan Lucas
Gas Safe Engineer
Please complete the enquiry form below, and send your details to our
Malvern
customer service team. Once you have completed this form, one of our advisors will contact you to discuss your requirements further and to arrange a suitable appointment.
To make a booking or to find out more about our services you can call us or talk to us online now using our LiveChat facility by clicking the image below.
Local Information On
Malvern
Located at the foot of Malvern Hills, lies the spa town of Malvern at the county of Worcestershire. Malvern is a known location of many Victorian /Edwardian villas that are still used today for keeping their culture alive.
Malvern is a place of serenity and refreshing aura making it known for its calming atmosphere of the countryside. It is also a famous holiday area for travellers that started its popularity dated way back in the Victorian Era. If peace and relaxation are what you look for then Malvern is the town for you!
You can also enjoy the town's local arts by visiting places like the Elgar Birthplace Museum dedicated to Edward Elgar Country, who is a famous composer, Malvern Local Theater's Festival, and Blue Plaque Trail which is the home of the James bond creator.
The town's desire to share their culture can also be appreciated by visiting their heritage sites. To name, there are Little Malvern Priory, Abbey Gateway, St. Wulstan's Catholic Church, Malvern Museum to learn more about the town's history and Great Malvern Priory.
Lastly, to prove the town's trademark as a spa town, you can visit Malvern to relax. You can unwind at the Malvern Hills to have a hike, St. Ann's Well, Worcestershire Beacon for a great view, Priory Park, and Knapp and Papermill Nature Reserve. 
Plumbingforce Service Area