ENGINEERS IN YOUR AREA TODAY!
Newmarket

Plumbers & Gas Engineers
Local based Gas Safe registered plumbers covering Newmarket. With over 2000 Reviews We offer Same Day service with an emergency response.
Newmarket Customer Reviews
Very pleased with the services of Plumbing Force. The plumber fixed the issue we had in our kitchen and even had suggestions for the short term and long term.
Very friendly and helpful plumbers. Polite and courteous. They were able to identify, and rectify the problems with the allotted time frame. I will certainly use them again.
The Plumber was excellent, knew exactly what to do. He worked fast and efficiently. He was friendly and even solved a couple of other minor issues unrelated to the plumbing. Thanks again
Really great service was in and relasied the problem very quick done other checks on the boiler also what may breakdown at times. Fixed it and explained exactly what was wrong and what i can do prevent this and what i am ok to do on my own if there is the same fault. Was low water pressure. Great service will use again and recommend to others.
Plumbingforce Gas Safe engineers are available in Newmarket to help take the stress out of your plumbing, gas, & boiler issues
Ensuring your boiler is serviced is paramount to maintaining the efficiency of your system
Authorised members of Gas Safe (registration number 551780) offering gas repair/installation services in Newmarket
Newmarket

Plumbing Repairs & Services, Boiler Installations
We serve the whole of the Newmarket and other towns in the East including Bedfordshire, Bedford, Biggleswade, Flitwick, Leighton Buzzard, Luton, Stotfold, Peterborough, Cambridge, Norwich, Harpenden, Hitchin, Chelmsford and much more.
Our engineers can repair and service most system to ensure it operates at the right efficiency and also prevents further problems from arising.If your boiler has a problem, we can also investigate saving you from the stress and hassle caused from the issues.
Do you own a Saniflo toilet system? Our plumbers are experts at unblocking or replacing your toilet, macerator, sink and shower pump. If you find you tap leaking, we can also fix it or replace your washer. While knowing how to clean and maintain your house is a must, there are some things that you must leave with professional hands. Your pipes and boilers are some of the appliances that need an engineer's expertise. When cleaning, our engineers use a high-velocity (but low pressure) water pump to keep your radiators rust and damage-free.
Radiator & Central Heating Services
Our Newmarket plumbing and heating engineers can service, repair, install and maintain any domestic central heating system at your property, simply call our friendly team and we will schedule an appointment to suit you.
Keeping your radiator clean is the best way to keep it running efficiently. Dust and dirt, if not cleaned, can turn into the rust that makes it eventually break down. Fortunately, you don't have to wait until your radiator starts to sputter and leak all over your carpets. We ensure to install your heating system according to industry standards, clean it of dirt and maintain its parts to lengthen its life. This way, you can save more than you spend. Once you give us a call, we make sure to be there immediately.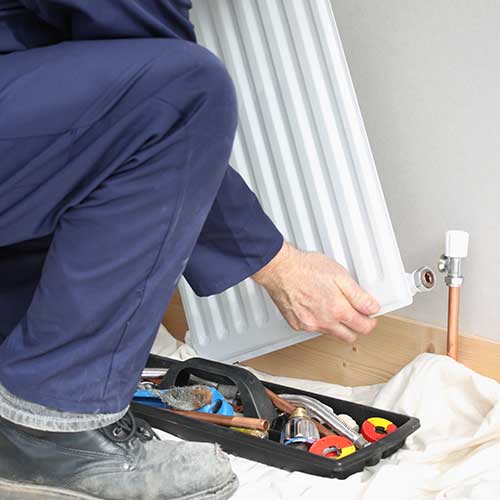 Gas Safe Plumbers In
Newmarket
Our engineers can repair and service most system to ensure it operates at the right efficiency and also prevents further problems from arising.If your boiler has a problem, we can also investigate saving you from the stress and hassle caused from the issues.
We operate a fast same day service throughout all of Newmarket & our coverage areas, particularly when a plumbing emergency arises. From boiler repairs, leaking and burst pipes, to toilets which won't flush and showers which are always cold, contact us to get these sorted in the quickest possible time.
If you have a problem that requires immediate attention, contact Plumbingforce today to arrange one of our emergency team members to attend your property without delay!
Plumbing Prices In
Newmarket
Plumbing
Local plumbers ready to assist with one call
£
99
Per Hour + vat
General Repair & Installations
Appliance Fitting
Expert Installers for your new appliances
£
99
Per Hour + vat
General Repair & Installations
Gas
Gas Safe Registered Plumbers at your service
£
99
Per Hour + vat
Gas Fire Repair/Servicing

General Gas Repair / Installations
Boiler Services
Hassle-Free Boiler Installations, Repairs and Maintenance
£
99
Per Hour + vat
Boiler Servicing (Fixed Price)

Gas Checks CP12 (Fixed Price)
Local Heating Engineer and Local Gas Engineer in
Newmarket
Because we are committed to providing the highest quality of plumbing, gas, & boiler services to our clients, we make sure that our engineers are Gas Safe Registered. This certifies that they are trained to investigate gas-related problems and provide the necessary services. We ensure that our engineers are available within the hour of your call. Whatever your heating system requires, our people are trained to install, clean and maintain packaged burners, industrial burners, gas-fired heaters, warm air unit, and more gas appliances.
Adam Vipond
Gas Safe Engineer
Anthony Bilson
Gas Safe Engineer
Ben Briden
Gas Safe Engineer
Dan Lucas
Gas Safe Engineer
Please complete the enquiry form below, and send your details to our Newmarket customer service team. Once you have completed this form, one of our advisors will contact you to discuss your requirements further and to arrange a suitable appointment.
To make a booking or to find out more about our services you can call us or talk to us online now using our LiveChat facility by clicking the image below.
Local Information On
Newmarket
The town that was once recorded as Novum Forum in the 1200s was later called Newmarket as a translation of its original name. Located in Suffolk County, the town holds around 20,000 residents and the PGI-Protected Newmarket Sausage. After James I, King of Scotland built his estate on an acre of land in the 1600s, the town will later become his royal resort. Because of his love for horseracing, Newmarket today is leading the multibillion horse racing and breeding industry. With over fifty horse training stables and 3,000 thoroughbred horses, the town never lacks entertainment. 
This strong appreciation for horses has shaped the town's culture. Newmarket is home to well-known sporting painters, developing the art of painting moving subjects in the 18th century. Outside of the racetracks, the town is tranquil and rustic with a genteel charm.
Plumbingforce Service Area