ENGINEERS IN YOUR AREA TODAY!
Northampton

Plumbers & Gas Engineers
Local based Gas Safe registered plumbers covering Northampton. With over 2000 Reviews We offer Same Day service with an emergency response.
Northampton Customer Reviews
I was pleased with the work and explanation of problem. Would recommend and use again. Cost always a worry when do not know the time to resolve but a competitive price compared to others.
Gas fitter went out of his way , found a small gas leak on my boiler . Fitted my gas hob excellent job thank you . Quite expensive but that's what you pay for good service.
The service I received was first class. Reported faulty boiler, Engineer turned up the next morning, got the faulty part within an hour and problem solved. I was also notified by text message confirming the visit. Thank you Plumbingforce.
Man that came very friendly and cheerful. Got on with job. Had to go out pick up part and got it fitted and boiler working in time he said. Didn't do anything without checking I was happy with the work he need to do, also gave me useful feedback for needing to change boiler in future as this one is old.
Plumbingforce Gas Safe engineers are available in Northampton to help take the stress out of your plumbing, gas, & boiler issues
Ensuring your boiler is serviced is paramount to maintaining the efficiency of your system
Authorised members of Gas Safe (registration number 551780) offering gas repair/installation services in Northampton
Plumbing Repairs & Services, Boiler Installations
Northampton
We serve the whole of the Northampton and other towns in the East Midlands including Nottingham, Leicester, Derby, Lincoln, Hinckley, Kettering, and much more.
Our engineers can repair and service most system to ensure it operates at the right efficiency and also prevents further problems from arising.If your boiler has a problem, we can also investigate saving you from the stress and hassle caused from the issues.
Our gas engineers and plumbers have the capacity to repair, install and maintain the things that you use almost every day. Whether it's your clogged sink, a leaking radiator or a brand new gas cooker, we've got the expertise and the tools to deal with your present issue. As part of our job, we make sure to run a test on your gas appliances before, during and after an installation or repair. If you need to have your Gas Safe certificate renewed, you may contact our Northampton office and we can run a maintenance check on your flue, fireplace, gas cooker or boiler.
Radiator & Central Heating Services in
Northampton
Our Northampton plumbing and heating engineers can service, repair, install and maintain any domestic central heating system at your property, simply call our friendly team and we will schedule an appointment to suit you.
We understand the needs of today's fast-paced world and believe in fostering a harmonious relationship with our clients. Since the appliances our engineers work on are things that you use on a daily basis, we make sure that you get same-day service. This will not only keep your possessions from further damage but also keep your wallet from spending more than you ought. Should you call us for major issues, we guarantee that our team will be at your doorstep within one to three hours of your call and get the job done just as quickly.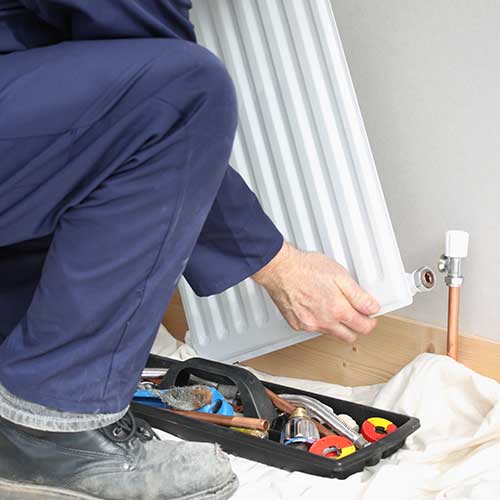 Gas Safe Plumbers In
Northampton
Our engineers can repair and service most system to ensure it operates at the right efficiency and also prevents further problems from arising.If your boiler has a problem, we can also investigate saving you from the stress and hassle caused from the issues.
We operate a fast same day service throughout all of Northampton & our coverage areas, particularly when a plumbing emergency arises. From boiler repairs, leaking and burst pipes, to toilets which won't flush and showers which are always cold, contact us to get these sorted in the quickest possible time.
If you have a problem that requires immediate attention, contact Plumbingforce today to arrange one of our emergency team members to attend your property without delay!
Plumbing Prices In
Northampton
Plumbing
Local plumbers ready to assist with one call
£
99
Per Hour + vat
General Repair & Installations
Appliance Fitting
Expert Installers for your new appliances
£
99
Per Hour + vat
General Repair & Installations
Gas
Gas Safe Registered Plumbers at your service
£
99
Per Hour + vat
Gas Fire Repair/Servicing

General Gas Repair / Installations
Boiler Services
Hassle-Free Boiler Installations, Repairs and Maintenance
£
99
Per Hour + vat
Boiler Servicing (Fixed Price)

Gas Checks CP12 (Fixed Price)
Our Registered Plumbers In
Northampton
Our heating engineers are experienced commercial gas safe registered engineer qualified to work on packaged burners, industrial boilers, gas fired heaters, warm air unit and more gas appliances.
Danny Tomlins
Gas Safe Engineer
Matthew Venables
Gas Safe Engineer
Michael Rye
Gas Safe Engineer
Sam Curtis
Gas Safe Engineer
Please complete the enquiry form below, and send your details to our Northampton customer service team. Once you have completed this form, one of our advisors will contact you to discuss your requirements further and to arrange a suitable appointment.
To make a booking or to find out more about our services you can call us or talk to us online now using our LiveChat facility by clicking the image below.
Local Information On
Northampton
Sitting in the East Midlands of England, Northampton is a large market town of Northamptonshire with about 220,000 residents. Back in 914, the town was called Ham tune, which literally meant "home town". Later on, the word North was added to distinguish it from Southampton. In 1086, the Domesday Book would call it Northantone and, later on in the 13th century, Norhamptone. By the 17th century, Northampton became its official name. Given its wealth of history and fame, it is no wonder that the town would play notable roles in the Wars of the Roses and the English Civil War. The latter would cause the town walls' and castle's destruction as the town supported the Parliamentary Roundheads. A few years after the civil war ended, Northampton suffered from a great fire that destroyed much of the town. As it was soon rebuilt, the industrial revolution changed the agricultural roots of the town and pushed its residents to start manufacturing shoes. In World War II, Northampton would have manufactured 23 million pairs of boots for the British armed forces.
Today, Northampton's old market square is one of the largest in the United Kingdom. Brimming with energy, there are many shopping centres here that bring lots of people together.
Plumbingforce Service Area