ENGINEERS IN YOUR AREA TODAY!
Salford

Plumbers & Gas Engineers
Local based Gas Safe registered plumbers covering Salford. With over 2000 Reviews We offer Same Day service with an emergency response.
Fantastic service and team! Diagnosed and fixed the problem quickly and within 1hr. Did not try and draw it out to go into the second hour like other services that start with a P… will definitely use again and recommend to friends when needed.
Arrived quickly and dealt with a serious gas leak very quickly. Also the engineer was very patient and helpful to my elderly parents. Their promp service was very much appreciated. Would recommend.
I am very impressed with Plumbingforce. I received prompt and competent service today. Max at the telephone HQ was very polite and helpful. Simon H. was extremely helpful, competent and easy to talk to. Simon H. was also very polite and considerate. My problem was easily identified and dealt with without any fuss.
Simon H came out to fix my gas cooker after it started leaking gas. Spent time explaining what he was doing and why. Installed new hose and pipes. No more leaks and cooker now working like new. Very courteous and knowledgeable.
Plumbingforce Gas Safe engineers are available in Salford to help take the stress out of your plumbing, gas, & boiler issues
Ensuring your boiler is serviced is paramount to maintaining the efficiency of your system
Authorised members of Gas Safe (registration number 551780) offering gas repair/installation services in Salford
Plumbing Repairs & Services, Boiler Installations in
Salford
We serve the whole of the Salford and other towns in the North West including Chester, Lancaster, Liverpool, Manchester, Eccles, Northwich, Altrincham, Ellesmere Port, Runcorn, Warrington, and much more.
Our engineers can repair and service most system to ensure it operates at the right efficiency and also prevents further problems from arising.If your boiler has a problem, we can also investigate saving you from the stress and hassle caused from the issues.
Plumbingforce is an authorised member of Gas Safe (registration number 551780), the official gas registration body for the United Kingdom. This ensures that we have the right tools and expertise to handle gas work. We provide quality boiler, plumbing and heating services for homes, offices or any property. Once we arrive at your doorstep, we have our IDs in place to declare what kinds of gas we are authorised to handle.
We also provide fast same-day services throughout Salford. You can count on us anytime to address your plumbing needs may it be declogging, installing or replacement. We can also give you tips to properly clean and maintain your own drainage system.
Radiator & Central Heating Services in
Salford
Our Salford plumbing and heating engineers can service, repair, install and maintain any domestic central heating system at your property, simply call our friendly team and we will schedule an appointment to suit you.
As services are becoming more streamlined, we value delivering high-quality and efficient gas and plumbing services right at your doorstep. Once we determine if your issue is an emergency, we guarantee that we will be at your property one to three hours from the time you called. And just as quickly we arrived, we can get the job done in no time (unless the issue involves several appliances). Let us take care of your heating system immediately to prevent further inconvenience and damage. This ensures that you won't spend more than you ought to and keep your possessions from incurring more damage. Avail our same-day services so that we can repair, maintain or install your gas appliances or pipelines.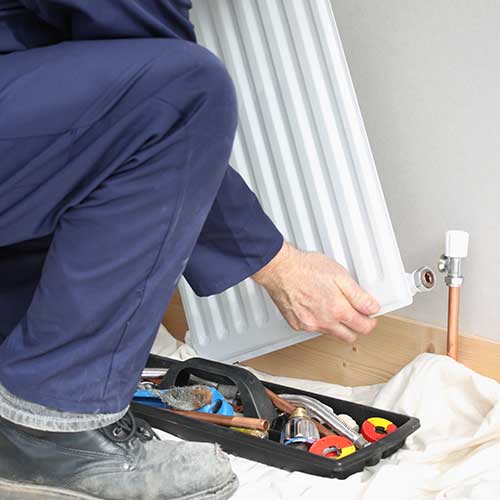 Gas Safe Registered Plumbers In
Salford
Our engineers can repair and service most system to ensure it operates at the right efficiency and also prevents further problems from arising.If your boiler has a problem, we can also investigate saving you from the stress and hassle caused from the issues.
We operate a fast same day service throughout all of Salford & our coverage areas, particularly when a plumbing emergency arises. From boiler repairs, leaking and burst pipes, to toilets which won't flush and showers which are always cold, contact us to get these sorted in the quickest possible time.
If you have a problem that requires immediate attention, contact Plumbingforce today to arrange one of our emergency team members to attend your property without delay!
Plumbing Prices In
Salford
Plumbing
Local plumbers ready to assist with one call
£
99
Per Hour + vat
General Repair & Installations
Appliance Fitting
Expert Installers for your new appliances
£
99
Per Hour + vat
General Repair & Installations
Gas
Gas Safe Registered Plumbers at your service
£
99
Per Hour + vat
Gas Fire Repair/Servicing

General Gas Repair / Installations
Boiler Services
Hassle-Free Boiler Installations, Repairs and Maintenance
£
99
Per Hour + vat
Boiler Servicing (Fixed Price)

Gas Checks CP12 (Fixed Price)
Our Registered Plumbers In
Salford
Our heating engineers are experienced commercial gas safe registered engineer qualified to work on packaged burners, industrial boilers, gas fired heaters, warm air unit and more gas appliances.
Adam Vipond
Gas Safe Engineer
Anthony Bilson
Gas Safe Engineer
Ben Briden
Gas Safe Engineer
Dan Lucas
Gas Safe Engineer
Please complete the enquiry form below, and send your details to our Salford customer service team. Once you have completed this form, one of our advisors will contact you to discuss your requirements further and to arrange a suitable appointment.
To make a booking or to find out more about our services you can call us or talk to us online now using our LiveChat facility by clicking the image below.
Local Information On
Salford
Salford is a city in England known as a contemporary cultural and entertainment hub with beautiful architecture and waterside dining. As part of the Greater Manchester in England, the city has about 240,000 residents and is named after a smaller town within it. 
With the River Irwell winding through the city, people often walk around and visit the several Grade I and II listed buildings in the area. Having the second highest number of Grade I buildings in the Greater Manchester, your may visit the Church of St Augustine, the Parish Church of St Mary the Virgin, St Mark's Church, Ordsall Hall, Wardley Hall and the bridge that crosses the river. Among the attractions in the area is the Lowry arts centre which stages and features the work of a local 20th-century artist named L.S. Lowry. Lowry was famous for integrating everyday city life in his works. 
Plumbingforce Service Area