ENGINEERS IN YOUR AREA TODAY!
Stoke-on-Trent

Plumbers & Gas Engineers
Local based Gas Safe registered plumbers covering Stoke-on-Trent. With over 2000 Reviews We offer Same Day service with an emergency response.
Stoke-on-Trent Customer Reviews
Two hours work and whilst undoubtedly not the cheapest, it has to be expected when you need someone quickly. Plumber was here in under four hours from the booking. Friendly, polite and professional. I felt very confident in what he was doing and how he was doing it. Very pleased with the overall service, thank you.
If you have any plumbing issues call Plumbingforce… They are awesome! They fixed my Garbage Disposal and showed up on time was very polite and cleaned up after, everything you want in a plumber. I highly recommend!
Plumbing force were easy to use and an easy process…. they did send a plumber in the morning when we had asked for the afternoon so we were not in, however we had a call an apology and rebooked. We had a plumber called Gary who was very efficient and helpful he completed the job and was tidy. Very good all round and one of the cheapest around.
Glad to have found Plumbingforce's website. Helpful staff and the plumber arrived well within the time frame given. He was able to sort our problem of a blocked toilet out quickly and was friendly and efficient. Will certainly use again.
Plumbing Repairs & Services, Boiler Installations in
Stoke-on-Trent
We serve the whole of Stoke-on-Trent and the other towns in the West Midlands including Newcastle-under-Lyme, Blythe Bridge, Cheddleton, Endon, Crewe, Tunstall, Hanley, Stafford, Madeley, Loggerheads, and Barlaston.
Our engineers can repair and service most system to ensure that it operates at the right efficiency. We also make sure that we prevent further problems from arising. If we discover an issue, our Gas-Safe registered plumbers can investigate further and give you their diagnosis and plan of action. You are not obligated to push through with the repairs.
However, if you want us to get the job done, you can hit us up for an appointment that is convenient for you so we can fix the errors of your appliances.
To give you an idea of what our engineers can do, they are able to address concerns about your defective central heating system, malfunctioning shower heater, clogged drains, leaking and burst pipes, and installation of gas cookers. To prove that our engineers are eligible of fixing your gas appliances and water system, they carry their Gas Safe Register ID card to show the types of gas work that can address.
Radiator & Central Heating Services in
Stoke-on-Trent
Our plumbing and heating engineers in Stoke-on-Trent can service, repair, install and provide maintenance checks on any central heating system at your property. Simply give us a call and our friendly customer service representative will be happy to schedule you with an appointment.
Although, if you have an emergency situation that cannot be prolonged, we offer same-day service to resolve your technical problems so that it won't escalate. We understand how unsettling this type of emergencies can be that is why our same-day service is an important component of our industry to ensure that your safety, and the security of your home and establishment.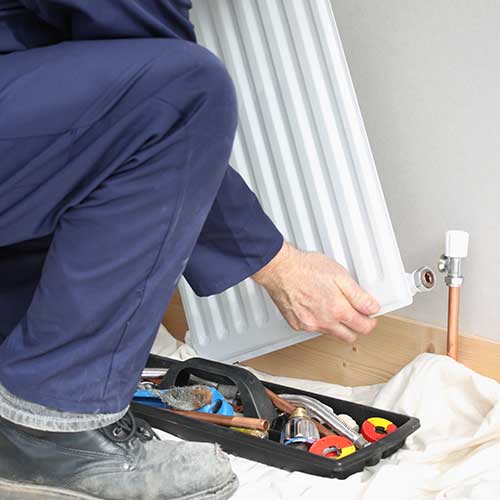 Gas Safe Registered Plumbers In
Stoke-on-Trent
Your safety is our main priority. This is the reason why we only employ plumbers and gas engineers who are registered on the Gas Safe Register. The Gas Safe Register has tight measures set in place to ensure that all of the gas engineers on their list are qualified and competent in handling all gas-related issues in your household. What this means is that all individuals employed by Plumbingforce are equipped with sufficient knowledge to handle any plumbing or gas-related issue they face.
We operate a fast same day service throughout all of Stoke-on-Trent & our coverage areas, particularly when a plumbing emergency arises. From boiler repairs, leaking and burst pipes, to toilets which won't flush and showers which are always cold, contact us to get these sorted in the quickest possible time.
If you have a problem that requires immediate attention, contact Plumbingforce today to arrange one of our emergency team members to attend your property without delay!
Plumbing Prices In
Stoke-on-Trent
Plumbing
Local plumbers ready to assist with one call
£
99
Per Hour + vat
General Repair & Installations
Appliance Fitting
Expert Installers for your new appliances
£
99
Per Hour + vat
General Repair & Installations
Gas
Gas Safe Registered Plumbers at your service
£
99
Per Hour + vat
Gas Fire Repair/Servicing

General Gas Repair / Installations
Boiler Services
Hassle-Free Boiler Installations, Repairs and Maintenance
£
99
Per Hour + vat
Boiler Servicing (Fixed Price)

Gas Checks CP12 (Fixed Price)
Local Heating Engineer and Local Gas Engineer in
Stoke-on-Trent
Our heating engineers are experienced commercial gas safe registered engineer qualified to work on packaged burners, industrial boilers, gas fired heaters, warm air unit and more gas appliances.
Adam Vipond
Gas Safe Engineer
Anthony Bilson
Gas Safe Engineer
Ben Briden
Gas Safe Engineer
Dan Lucas
Gas Safe Engineer
Please complete the enquiry form below, and send your details to our Stoke-on-Trent customer service team. Once you have completed this form, one of our advisors will contact you to discuss your requirements further and to arrange a suitable appointment.
To make a booking or to find out more about our services you can call us or talk to us online now using our LiveChat facility by clicking the image below.
Local Information On
Stoke-on-Trent
If you are looking for elegant parks and gardens, historic buildings, outstanding museums, and markets to explore around, Stoke-on-Trent is a city that will captivate your heart with all the amazing places it has to offer. It is also located in the county of Staffordshire in the region of West Midlands. With this, it is no surprise that the city has a growing population of 253,200 residents and is the 62nd most populous city in England.
To give you a short introduction about Stoke-on-Trent, here are some top places in the city that you might enjoy visiting!
For the nature lovers and the romantics, you can go and visit the beautiful and bright Trentham Gardens, Longton Park, Biddulph Grange Garden, Burslem Park, Knypersley Reservoir and Hanley Park. If you are interested with the city's history and striking landmarks, Victoria Hall,  Chatterley Whitfield Heritage Centre, Foxfield Railway, Portmeirion Factory Shop, Ford Green Hall, Rode halls and Gardens, Emma Bridgewater Factory and Stoke Minster. 
There are also museums in Stoke-on-Trent like the Gladstone Pottery Museum, Etruria Industrial Museum, World Wedgwood, The Spode Museum Trust Heritage Centre, and Potteries Museum & Art Gallery. In fact, if you want to experience or see how pottery works, Middleport Pottery is the place for you to try it out. Meanwhile, the events in King's Hall, Britannia Stadium, and The Regent Theatre is something you should look forward to!