ENGINEERS IN YOUR AREA TODAY!
Walsall

Plumbers & Gas Engineers
Local based Gas Safe registered plumbers covering Walsall. With over 2000 Reviews We offer Same Day service with an emergency response.
The plumber turned up during the agreed 4 hour slot. I'd had a text earlier to say he was on his way. He was friendly and competent. He identified the problem with the shower and kept me informed. He then went off to check prices of spare parts, and said he would call me with prices before ordering and making a return appointment.
Very happy with service received. Arrived 9am and completed service as requested, unblock the Saniflo toilet in ensuite. Victor, the plumber was polite. Have used this firm last year and definitely will use them again if needed arise. Thank you very much.
My usual boiler guy was on holiday so I had to look on internet for an emergency call out service. Andy was here after just over an hour from initial phone call and had fixed the problem within 20 mins. He then retested the boiler and emissions and left everything tidy and in working order. Great service!!! Paul
GARETH came out, called me when he was 25 mins away, arrived on time, quickly diagnosed problem and proposed 2 solutions: a cheap "quick fix" and a more expensive one that would be a better long-term solution. I went with the cheap solution he was happy to get it done. Will use Plumbingforce again.
Plumbingforce Gas Safe engineers are available in Walsall to help take the stress out of your plumbing, gas, & boiler issues
Ensuring your boiler is serviced is paramount to maintaining the efficiency of your system
Authorised members of Gas Safe (registration number 551780) offering gas repair/installation services in Walsall
Plumbing Repairs & Services, Boiler Installations in
Walsall
We serve the whole of the Walsall and other towns in the West Midlands including Birmingham, Coventry, Wolverhampton, Stoke-on-Trent, Lichfield, Worcester, and much more.
Our engineers can repair and service most system to ensure it operates at the right efficiency and also prevents further problems from arising.If your boiler has a problem, we can also investigate saving you from the stress and hassle caused from the issues.
Just so you know, our engineers can resolve your issues with defective gas cookers, broken central heating system,  water system maintenance, malfunctioning shower heaters, and pipes installation. Plumbingforce engineers are competent to assist you to fix the errors of your appliances.  In fact, to assure you that our team are experts in the field, they carry their Gas Safe Register ID so you can identify the set of gas works that are qualified to address! 
Radiator & Central Heating Services in
Walsall
Our Walsall plumbing and heating engineers can service, repair, install and maintain any domestic central heating system at your property, simply call our friendly team and we will schedule an appointment to suit you.
Although, if scheduling an appointment is not convenient and our immediate action is a must, our engineers can come to you within the day due to our same-day service! We understand that there are problems that should not be kept waiting or else it will worsen, that is why Plumbingforce heating and plumbing engineers are ready in action to prevent risks.
Granted, the same-day service is an important aspect of our industry knowing that emergency situations can be unsettling and unsafe. With this, we want to take action within the day you called to guarantee that you are safe!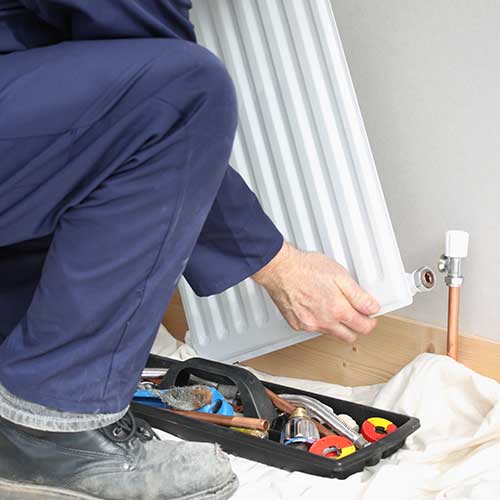 Gas Safe Registered Plumbers In
Walsall
Our engineers can repair and service most system to ensure it operates at the right efficiency and also prevents further problems from arising.If your boiler has a problem, we can also investigate saving you from the stress and hassle caused from the issues.
We operate a fast same day service throughout all of Walsall & our coverage areas, particularly when a plumbing emergency arises. From boiler repairs, leaking and burst pipes, to toilets which won't flush and showers which are always cold, contact us to get these sorted in the quickest possible time.
If you have a problem that requires immediate attention, contact Plumbingforce today to arrange one of our emergency team members to attend your property without delay!
Plumbing Prices In
Walsall
Plumbing
Local plumbers ready to assist with one call
£
99
Per Hour + vat
General Repair & Installations
Appliance Fitting
Expert Installers for your new appliances
£
99
Per Hour + vat
General Repair & Installations
Gas
Gas Safe Registered Plumbers at your service
£
99
Per Hour + vat
Gas Fire Repair/Servicing

General Gas Repair / Installations
Boiler Services
Hassle-Free Boiler Installations, Repairs and Maintenance
£
99
Per Hour + vat
Boiler Servicing (Fixed Price)

Gas Checks CP12 (Fixed Price)
Our Registered Plumbers In
Walsall
Our heating engineers are experienced commercial gas safe registered engineer qualified to work on packaged burners, industrial boilers, gas fired heaters, warm air unit and more gas appliances.
Andrew Lane
Gas Safe Engineer
Matthew Edwards
Gas Safe Engineer
Neil Heelas
Gas Safe Engineer
Stephen Blair
Gas Safe Engineer
Please complete the enquiry form below, and send your details to our Walsall customer service team. Once you have completed this form, one of our advisors will contact you to discuss your requirements further and to arrange a suitable appointment.
To make a booking or to find out more about our services you can call us or talk to us online now using our LiveChat facility by clicking the image below.
Local Information On
Wallsall
Walsall is a commercial town in Staffordshire, England and was previously known as UK's leather capital. In addition, the area holds a growing population of 283,400 residents and is where the Walsall Football Club association is based.
If you wanna get to know Walsall more, you can check out the Walsall Leather Museum, Aston Manor Road Transport Museum, Pelsall History Centre, and Black Country Living Museum. There are also spots in Walsall where you can appreciate the beauty of nature or just have a picnic and let the children play like the  Fours Seasons Garden, Walsall Arboretum, Cuckoos' Nook and the Dingle, Chasewater Country Park, Barr Beacon, Park Lime Pits Local Nature Reserve and Willenhall Memorial Park. 
Not to mention, the town is an absolute delight for art enthusiast as Walsall houses The New Art Gallery and Bilston Craft Gallery. Or if you want, you can even take a day off from the busy streets of the city, and get a therapeutic healing experience in Fairlawns Spa, or watch the Walsall Canal and have a peace of mind.
Plumbingforce Service Area