ENGINEERS IN YOUR AREA TODAY!
Worcester

Plumbers & Gas Engineers
Local based Gas Safe registered plumbers covering Worcester. With over 2000 Reviews We offer Same Day service with an emergency response.
Worcester Customer Reviews
WHERE DO I START OFF! THE JOB WAS DONE QUICKLY AND AMAZINGLY. My toilet was like super messed up and I did not know what the problem was. So I contacted them and they came and check it out. They found out what was wrong so they gave a reasonable price and they did a great job. Ever since, my toilet has been acting normal.
Anthony arrived quickly after our emergency call for plumbing help. He quickly found the problem and mended the part although it was hidden behind tiling. The tiling was replaced and the whole job completed with no sign of the damage
Your engineer Adam was very professional and really friendly. He came extremely prompt and did a great job putting my bath/shower mixer in and told me exactly what he was doing. Great work plumbing force!! Very happy 😁
I unexpectedly had to have my boiler serviced and contacted Plumbingforce on a Friday evening. First thing on the Saturday morning I was contacted and an engineer was arranged to call that day. The engineer assigned to do the work was Gareth Redford and he did a great job. Thank you Plumbingforce and Gareth. I would recommend Plumbingforce.
Plumbingforce Gas Safe engineers are available in Worcester to help take the stress out of your plumbing, gas, & boiler issues
Ensuring your boiler is serviced is paramount to maintaining the efficiency of your system
Authorised members of Gas Safe (registration number 551780) offering gas repair/installation services in Worcester
Plumbing Repairs & Services, Boiler Installations in
Worcester
We serve the whole of Worcester and the other areas in the county of Worcestershire including Droitwich, Great Malvern, Kidderminster, Evesham, Redditch, and Stourbridge.
Our engineers can repair and service most system to ensure that it operates at the right efficiency. We also make sure that we prevent further problems from arising. If we discover an issue, our Gas-Safe registered plumbers can investigate further and give you their diagnosis and plan of action. You are not obligated to push through with the repairs.
Just so you know, our engineers are skilled at handling issues you have with your plumbing and gas/heating systems. Our services range from repairing boilers, unclogging drains, fixing burst pipes, installing gas cookers, to restoring broken shower heaters. 
If you're in question of their credibility, they bring their Gas Safe Register ID card to show the type of gas works they can manage. But you can also refer to our previous customers' reviews to read on the quality of work that they provide.
Radiator & Central Heating Services in
Worcester
Our plumbing and heating engineers in Worcester can service, repair, install and provide maintenance checks on any central heating system at your property. Simply give us a call and our friendly customer service representative will be happy to schedule you with an appointment.
Since there are situations needing immediate attention, Plumbingforce engineers can come to you within the day you called to be able to aid you with your current issues. The same-day service comes in handy to our clients to resolve their problems in their heating or plumbing systems immediately. 

Plumbingforce is aware of the possible risks of faulty water systems or impaired heating/gas appliances, for this reason, we offer an emergency team to respond quickly to keep you from harm's way! Plumbingforce's same-day service is a vital feature to keep you safe and to serve you the fastest way possible.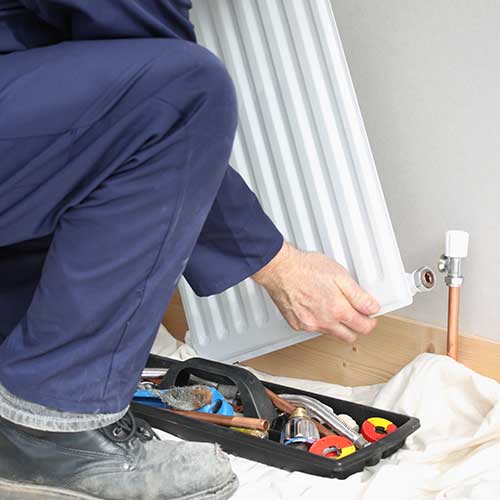 Gas Safe Registered Plumbers In
Worcester
Your safety is our main priority. This is the reason why we only employ plumbers and gas engineers who are registered on the Gas Safe Register. The Gas Safe Register has tight measures set in place to ensure that all of the gas engineers on their list are qualified and competent in handling all gas-related issues in your household. What this means is that all individuals employed by Plumbingforce are equipped with sufficient knowledge to handle any plumbing or gas-related issue they face.
We operate a fast same day service throughout all of Worcester & our coverage areas, particularly when a plumbing emergency arises. From boiler repairs, leaking and burst pipes, to toilets which won't flush and showers which are always cold, contact us to get these sorted in the quickest possible time.
If you have a problem that requires immediate attention, contact Plumbingforce today to arrange one of our emergency team members to attend your property without delay!
Plumbing Prices In
Worcester
Plumbing
Local plumbers ready to assist with one call
£
99
Per Hour + vat
General Repair & Installations
Appliance Fitting
Expert Installers for your new appliances
£
99
Per Hour + vat
General Repair & Installations
Gas
Gas Safe Registered Plumbers at your service
£
99
Per Hour + vat
Gas Fire Repair/Servicing

General Gas Repair / Installations
Boiler Services
Hassle-Free Boiler Installations, Repairs and Maintenance
£
99
Per Hour + vat
Boiler Servicing (Fixed Price)

Gas Checks CP12 (Fixed Price)
Local Heating Engineer and Local Gas Engineer in
Worcester
Our heating engineers are experienced commercial gas safe registered engineer qualified to work on packaged burners, industrial boilers, gas fired heaters, warm air unit and more gas appliances.
Andrew Lane
Gas Safe Engineer
Please complete the enquiry form below, and send your details to our Worcester customer service team. Once you have completed this form, one of our advisors will contact you to discuss your requirements further and to arrange a suitable appointment.
To make a booking or to find out more about our services you can call us or talk to us online now using our LiveChat facility by clicking the image below.
Local Information On
Worcester
By the River Severn, lies the city of Worcester the capital city of the county of Worcestershire. The home of a great community, Worcester houses 547,743 residents being one of the safest places to live in. 
The city's pride is also their historical heritage of industry and architecture, picturesque countryside, and eventful festivals.
In case you are here for the historic buildings of the city, Worcester has a lot to offer! Places like Worcester Cathedral, Brockhampton Estate, Avoncroft Museums of Historical Buildings, Harvington Hall, Great Malvern Priory, and Malvern Museum are a go-to for you.
If you are up for a stroll, there are some charming and picturesque green spaces to explore here. To name, you can visit the Perry Wood Local Nature Reserve, The Slip Park, and the riverside of River Severn. 
Lastly, the city's festivals are a way for tourists to have a memorable and fun time as they stay in Worcester. The city governance arranges events like Worcester Foodie Festival, Love Worcester Festival for the celebration of their heritage, Worcester Motor Festival, Music Festival, and Worcester Victorian Christmas Fayre.