ENGINEERS IN YOUR AREA TODAY!
TRANSPARENT PRICES UPFRONT
Booking an appointment is easy! Simply call our team who will advise you of our hourly labour rate before you book an appointment. If parts are required, our plumbing and heating engineers will keep you informed of costs when at your property. All appointments are subject to a minimum charge of 1 hour labour and VAT.
Plumbingforce Gas Safe engineers are available in to help take the stress out of your plumbing, gas, & boiler issues.
To avoid breakdown and repair costs, it is advised that you service your boiler once every year to keep it running smoothly.
Authorised members of Gas Safe (registration number 551780) offering gas repair/installation services.
We complete most appointments without the need for replacing parts, however our plumbing and heating engineers are equipped with most standard parts should these be required to provide a full repair/fix.
Need a part we don't carry in stock? Don't worry, we can usually get non-van stock the same or next day, subject to availability. However we strive to aim for a 1st visit fix at all times.
Minimum Charge & Payment Methods
All visits are subject to a minimum charge of the first hour. You will be advised how much our hourly rate is when speaking to our team, which covers the time spent working at your property diagnosing, installing, servicing or carrying out any necessary repairs. This rate won't include any parts or equipment hire if required.
Any time spent travelling to collect non standard materials (such as boiler parts, pumps etc) from our suppliers will be charged on the hourly rate, upto a maximum of 1 hour travel time.
We won't charge you for the collection of standard/day-to-day parts as we carry these on our vehicles (such as pipe, fittings etc). Our engineers are equipped to carry out most appointments in a single visit. Where parts need to be ordered or collected, our engineer will inform you during the visit. Our minimum fee for the visit will still apply.
As part of our booking process we require a debit/credit card upfront to schedule an appointment where a deferred hold of 1 hours labour will be applied. Monies are not taken until we have attended your appointment.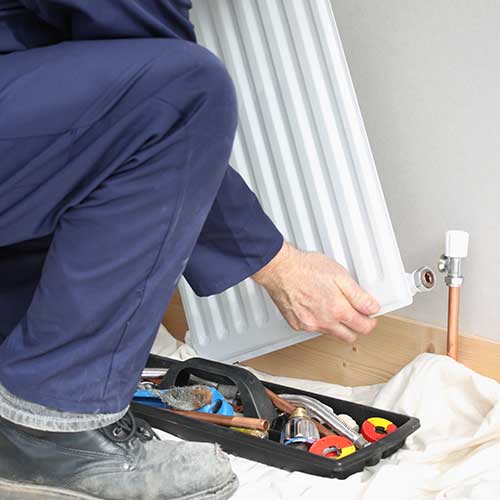 Some appointments can be carried out on a fixed price, for example a standard boiler service or a gas safety check of a property.Our team will advise you of our current prices when you schedule your appointment.
We operate a fast same day service throughout all of our coverage areas, particularly when a plumbing emergency arises. From boiler repairs, leaking and burst pipes, to toilets which won't flush and showers which are always cold, contact us to get these sorted in the quickest possible time. If you have a problem that requires immediate attention, contact Plumbingforce today to arrange one of our emergency team members to attend your property without delay!
Please complete the enquiry form below, and send your details to our customer service team. Once you have completed this form, one of our advisors will contact you to discuss your requirements further and to arrange a suitable appointment.
Plumbingforce local engineers in your area
London, East Anglia, North West, Midlands, South East, South West, Yorkshire, Wales